The search for a girl from soldier's photo 80 years later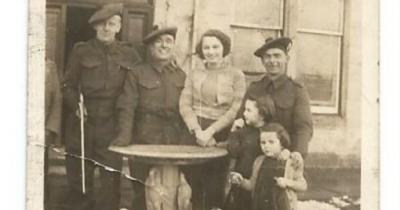 Harry O'Neill, far left, with other soldiers and the girl's family
  ROME - Almost 80 years after he saved the life of a child, the family of an British soldier are trying to find the Italian girl from the story he so often told, reported Il Fatto Quotidiano on Tuesday.
  Neda Tootoonchi, and her husband Paul, have enlisted the help of writer Matteo Incerti in their search to find the small girl, now probably a bit bigger, from a photo that Paul's grandfather had saved from his days in Italy during the second world war.
  Harry O'Neill, who died in 2012, was stationed with the Royal Scots in Borgo San Lorenzo in 1944 when he found a young girl hiding all alone in a house, hungry and scared. O'Neill, and a few other soldiers from his battalion, managed to track down the girl's family and deliver her back to them.
  Their kindness didn't stop there however - they stole some food from the Navy, Army and Air Force Institutes (NAAFI), and brought it back to the family, cooking them a slap up meal. A rare treat for the poor Italian family caught in the midst of violent conflict.
  This small oasis of wartime happiness was something that O'Neill never forgot, even managing to save a photo of the day for all these years. When his family rediscovered the photo some 77 years later, they were inspired to start a search for the girl to meet her and see what she remembers of the day. 
  Neda, a Florentine who now lives in England with her husband Paul, contacted Matteo Incerti, who she knew had recently helped another soldier get into contact with three (no longer) children whose lives he had saved during the war. 
  He posted the story and photo online, and it was successful in reaching the three he saved, and so now the wait has begun for Neda and Paul to see if they will be as lucky.  
ol