Amazing discovery of erotic Roman chariot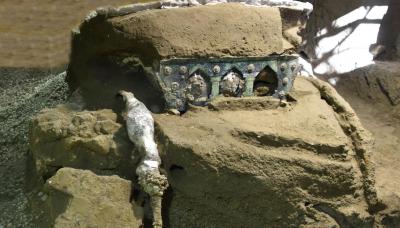 POMPEII - An almost entirely intact erotic parade chariot has been discovered in the excavations of Civita Giuliana, just to the north of the famous Roman town.
  The discovery was announced on Saturday by the Pompeii Archaeological Park in collaboration with the authorities of Torre Annunziata and the Ministry of Culture.
  The grand ceremonial chariot was unearthed just in front of the porch of a stables where in 2018 the remains of three horses were discovered.
  The four wheels and body of the nuptial chariot are well preserved, with the bronze and tin decorations still clear on the iron body, some of which are very erotic, with some of the mineralised wood also intact. This discovery of such a well preserved chariot of this kind is unprecedented in Italy.
  Dario Franceschini, the Minister of Culture, said that "Pompeii continues to amaze with its discoveries and will continue to do so for many years with 20 hectares still to excavate. But above all it shows that there is still value, it can still attract tourists from all over the world and at the same time there is space for research, education and study, and a young director such as Zuchtriegel will showcase this commitment."
  A video of the discovery: https://www.ilfattoquotidiano.it/2021/02/27/pompei-ritrovato-un-carro-da...
ol