The call for international action after further migrant deaths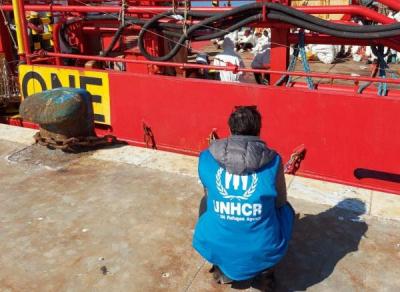 AGRIGENTO - After news was released of yet another 41 migrants missing in the Mediterranean, UNHCR (the UN migration agency) and the International Organisation for Migration (IOM) on Wednesday called for an international effort in protecting the rights of migrants. 
  The humanitarian agencies have asked for help in the provision of safe and viable alternatives for migrants who are faced with either having to make the dangerous journey across the Mediterranean in a rubber dinghy, or staying in Libyan migrant camps in the hands of brutal militants and traffickers. 
   On Feb. 18, around 120 migrants left the Libyan coast in a rubber dinghy. After about 15 hours the dinghy began to let in water and those on board began to call desperately for help. The merchant ship Vos Triton spotted them three hours later but in that time six had already fallen into the water and drowned. Upon seeing the ship a further two drowned attempting to reach it by swimming.
  In the confusion of getting the migrants aboard the Vos Triton, many more lost their lives. Only one body was recovered. UNHCR sources have revealed that 41 are still missing at sea, and among them three children.
  UNHCR officials were waiting at Porto Empedocle in Sicily for the arrival of the Vos Triton on Feb. 20, and collected testimonies from the 77 survivors of the shipwreck.
  The UN agency has claimed that since Jan. 1, the Mediterranean has already taken the lives of 160 migrants. Over 2,500 of the 3,800 migrants that have landed on Italian shores come from Libya.
  According to IOM data, in the same period 3,580 migrants were intercepted at sea and brought back to Libya, where they are forced into the awful conditions of detention centres and run the risk of becoming victims of abuse and grave violations of human rights.
  The OIM and UNHCR reiterate that Libya should not be considered a safe port and every effort should be made to ensure that those attempting to flee are not brought back. 
  An official statement released on Wednesday reads, "in line with international obligations, the duty to save those adrift in the sea must always be respected, independently of their nationality or legal status.
  "The fact that refugees and migrants continue in their desperate attempts to reach Europe across the Mediterranean is proof of the necessity of an immediate international effort to offer them valid alternatives."
ol