Hundreds of Italian motorway tunnels deemed unsafe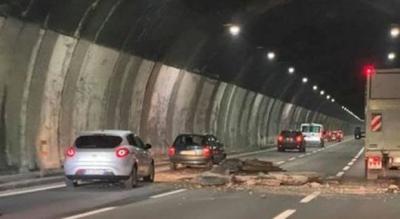 GENOA - After a bridge collapsed on the A26, killing 37 motorists, an investigation into the lack of security systems on Italian motorways was opened to include hundreds of tunnels deemed to be unsafe, officials say. The investigation is now being extended by six months. There are thought to be 21 people who are responsible for the breach of public supply contracts, according to "il Fatto Quotidiano." "Autostrade per l'Italia" (Aspi) has made it known that, from 2019, they started a "process of radical reform of the control standards, maintenance and adaptation of all the components of the motorway network."
  The 21 managers and executives of Aspi and its maintenance subsidiary "Spea", are being investigated by the Genoa Public Prosecutor's Office, after the collapse of a 2.5 tonne block of concrete from the ceiling of the Berté tunnel on the A26 Genoa-Gravellona Toce motorway on Dec. 30 2019. Prosecutors Stefano Puppo and Daniela Pischetola, coordinated by Deputy Prosecutor Francesco Pinto, asked and obtained from the judge another six months to carry out "investigative findings of no immediate conclusion", in particular "inspections, the hearing of informed persons and the analysis of acquired documentation", as well as further possible acts of investigation "also of a technical nature". The registration of the first suspects dates back to June 23 2020, so the deadline, which was due to expire on Jan. 22, has been extended to 22 June.
  The main change contained in the document is the charge of breach of public supply contracts, an offence under Article 355 of the Criminal Code and punishable by imprisonment from 6 months - 3 years. The public prosecutor's office accuses them of failing to bring 40 Ligurian tunnels into line with a 15-year-old European directive, 54/2005, which requires the presence of safety systems such as emergency lanes, watertight chambers, water supply, video surveillance and SOS columns. In late 2019, the Higher Council of Public Works warned Aspi to "immediately" bring 104 tunnels throughout Italy up to standard, threatening fines of up to 150,000 euros.
  According to the Genoa prosecutors, the failure to bring the tunnels into compliance constitutes a breach of the agreement between the concessionaire and the state, hence the new charges against the former directors. The other unprecedented charge is that of forgery in public computer document (art. 491 bis criminal code) for the 12 technicians and managers of Spea, the subsidiary of the Atlantia group that deals with infrastructure maintenance, including the former CEO Antonino Galatà.
 jp-av