Huge crowds amid speculation of return to orange zone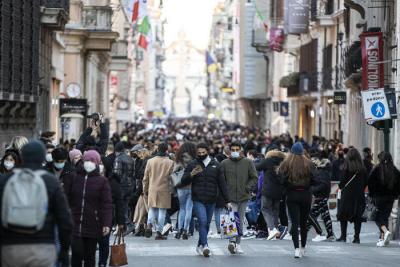 ROME - Police had to shut off the Trevi Fountain and 40 people were sanctioned by authorities on Sunday after St Valentine's day and the Rome Carnival saw a huge influx of crowds into the capital.
  The huge crowds, caused by a combination of blue skies, Valentine's day and the 'Carnevale di Roma,' celebrated before the start of Lent, has resulted in much consternation given the prevalence of new strains of Covid throughout Italy, with some speculating on Monday that Lazio, among other regions, may return to an orange zone next week. 
  Restaurant owners in Ventimiglia in Liguria described an influx of French people across the border to exploit the looser restrictions. 
  Restaurants in Milan were sold out, with one owner telling Il Fatto Quotidiano, "we were not expected so many people for lunch, I haven't seen the restaurant so full since the start of the pandemic." 
  Cities throughout Italy saw huge crowds return for the first time in a while, with many worrying about a rise in infections, though many business owners were pleased with the boom.
ol