Rugby: Another big loss for Italy as England regain form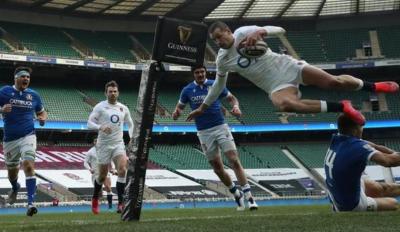 LONDON - In the second round of the 2021 Six Nations, England on Saturday beat Italy 41-18. 
  After the disappointment of last weekend's loss to Scotland, England found their stride at Twickenham in a match that saw six tries for the home side. Though England might have been rattled by an early Italy try - thanks to neat finish on the wing by Monty Ioane - they bounced back with some very good passages of attacking play, and the try count could have been a lot higher if it weren't for a few loose passes from the English backs.
  Tries for England came from Jonny Hill, Jack Willis, Elliot Daly, Jonny May and two from Anthony Joshua. May's try in the 40th minute came at the end of a long period of heavy pressure on the Italian defensive line, and was finished with a spectacular leap over the Italian winger Luca Sperandio.
  Watson scored a similarly spectacular try when he intercepted an Italian pass on the edge of England's 22 and ran the length of the pitch.
  The match however was marred by a couple of bust ups between the sides, and a horrific knee injury for the young Jack Willis. In his Six Nations debut, the 24 year old, who last year won player of the season in the English premiership, had to be stretchered off less than ten minutes after being substituted on, though he did manage score a try before he left. 
  The young Italian side were much tougher competition than has often been the case in the last few years, and managed to get a second consolation try in the 65th minute, thanks to substitute Tommaso Allen.  
  Italy were frequently guilty of squandering a promising attack with a poor kicks up field - playing into the kicking game that is a huge part of England's plan and that they do so well, using the hefty boot of Elliot Daly or George Ford to gain territory and scramble the Italian defence.
  Many pundits commented on the strength of the Italian team, noting that England have often in the past fielded a few younger players in this fixture, but England were perhaps less willing to mess around following their shaky start to the tournament, also seeing as there is week off before the next round of fixtures and no need to rest players now.
  Italy are to play Ireland in the next round as they continue their efforts for their first Six Nations victory since 2015. 
ol