Draghi given official mandate and announces cabinet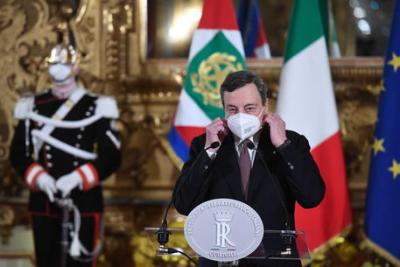 ROME - The Italian President Sergio Mattarella has on Friday evening given Mario Draghi the official mandate to form a government after two weeks of talks with party leaders. The former president of the European Central Bank will be sworn in as Prime Minister on Saturday at midday.
  Draghi has also announced the list of ministers for his new cabinet. Of the 15 men and eight women, seven also had roles in Conte's most recent cabinet.
  Roberto Speranza has kept his job as Health Minister, and Luigi Di Maio as Minister for Foreign Affairs. Lorenzo Guerini is to become Defence Minister, Roberto Cingolani the Environmental Minister, Dario Franco the Economic Minister, Giancarlo Giorgetti the Minister for Economic Development and Patrizio Bianchi will serve as Education Minister. 
ol