Over 1,000 visitors flock to Gallerie dell'Accademia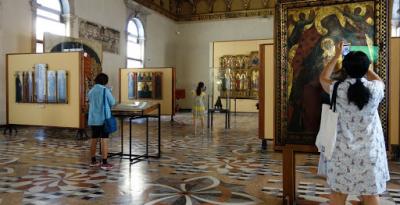 Inside Gallerie dell'Accademia
VENICE -  More than 1,000 art-lovers have visited the Gallerie dell'Accademia, in Venice, since it opened its doors five days ago. This figure is even bigger than the number of visitors, of which there were 589, when it reopened after the first lockdown, last May.
  There is no doubt that the gallery received so many visitors from Feb. 8 - 12 thanks to Lorenzo Lotto's "Sacred Conversation with Saint Catherine and Thomas", that came from the Kunsthistorisches Museum, in Vienna. It will only be possible to admire this extraordinary Renaissance masterpiece until Feb. 19.
  Not only this, but the appointments dedicated to "reading" and simultaneously understanding the work if the biggest Venetian art collection in the world, curated by officials and museum staff, as well as the director Giulio Manieri Elia and the vice-director Roberta Battaglia, have drawn in crowds.  
  Every day, from Feb. 15 - 19, there will be proposed moments of "detailed study". This is set to take place from 10-12 and 14-16, with the exception of Feb. 16, when there will be an additional morning visit, from 11-13.
  This is a truly unmissable opportunity for all history of art enthusiasts who, guided by curators and museum staff, will be able to dwell on their new insights on the works of some of the biggest artists, including: Tiepolo, Canova, Tiziano, Veronese, Bellini, Tintoretto, Carpaccio.
  The meetings are complementary with the entrance free and there is no need to book. The gallery is open from Monday from 8:15-14:15 and from 8:15-19:15 Tuesday to Friday.
av