Pope's Lent message of fasting, prayer and charity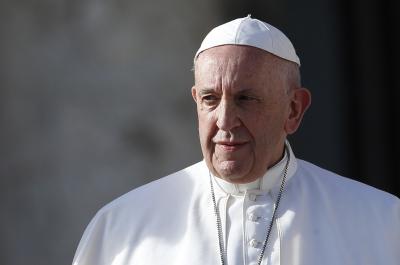 VATICAN CITY - In a press conference in the Hall of John Paul II at the Vatican press office on Friday, Cardinal Peter Kodwo Appiah Turkson presented Pope Francis' message for Lent, which begins on Wednesday.
  The pope's message bears the title "Behold, we are going up to Jerusalem," and begins with a passage from Matthew's gospel in which Jesus predicts to his disciples what will happen to him when they arrive in Jerusalem, with the pope discussing Jesus' legacy.
  The message promotes the theological virtues of faith, hope and charity and encourages, during the period of Lent, the practice of fasting, prayer and almsgiving.
  The conference also included speeches from Father Bruno Marie Duffé, Secretary of the Dicastery for Promoting Integral Human Development, and Dr Marcela Szymanski, EU and UN Advocacy Officer for Aid to the Church in Need (ACN).
  Dr Szymanski, following on from the pope's Lent message, said "a recently published poll by the Pew Research Center shows that, in most Western countries, religious feeling has increased during the pandemic. We should not close our eyes to that."
  She shared the story of those who have been persecuted for their faith, giving examples of families in Syria and Nigeria, concluding, "let us not forget them, let us talk about them, let us bring their story to the Synod of Bishops; so that we can tell them one day that their long Calvary toward Resurrection was not in vain!"
ol