'Schism' in M5S after party votes for support of Draghi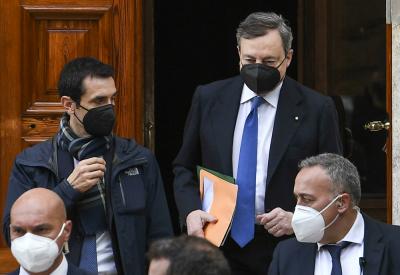 ROME - The 5 Star Movement have voted in favour of giving support to the Prime Minister designate Mario Draghi after an online vote held on the party's website, Rousseau. 59.3 per cent of the votes fell in favour of support for Draghi, with 40.7 per cent against.
  Thursday's vote, which was announced on Tuesday, postponed on Wednesday and then reinstated, was open to the party's 100,000 members. However, the vote, which saw a healthy proportion of the party in support of the former President of the European Central Bank, has also caused a schism within the party.
  Alessandro Di Battista, the M5S member of the Chamber of Deputies, has said in a video to the party, "I respect the decision of the members, but I cannot accept it. I will back off and no longer speak in the name of the party." The Corriere della Sera reports that the group of M5S dissidents includes between 10-15 senators and 20-25 deputies. The group are unhappy with the party's eagerness to be part of a coalition that will also include Silvio Berlusconi's Forza Italia.
  Luigi Di Maio, Minister for Foreign Affairs, however, has said, "our members have shown maturity, loyalty towards institutions and a sense of belonging to the country: we have chosen courage and the European way."
  Draghi is expected on Friday evening to make the journey to the Quirinal Palace to give President Sergio Mattarella his list of ministers for the cabinet. The political parties are mostly in the dark in regard to who will make it onto Draghi's list, according to political commentators. Some have suggested that Conte may be Minister for Foreign Affairs, and that the cabinet may be up to 50 per cent female, according to Il Messaggero. 
ol