Homosexuality a "behaviour at risk of Covid" in vaccine form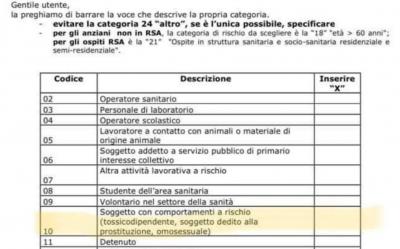 ROME - It was revealed on Thursday that the application form for the Covid vaccine in La Spezia listed homosexuality as being a behaviour more at risk of catching Covid, alongside prostitution and drug addiction. The local health authority (ASL) have been forced to apologise for the error.
  The mistake on the part of the ASL was revealed on Thursday by Ferruccio Sansa, a regional councillor in Liguria. The revelation caused much controversy, but was put down to a clerical copy and pasting error by the Director General of the Liguria ASL, Paolo Cavagnaro, in an interview with Il Fatto Quotidiano.
  Roberto Speranza, the Minister of Health, issued a press release saying, "only behaviour determines risk of covid, not one's sexual orientation. The application by the La Spezia ASL erroneously includes, as clarified by the ASL, an old document used for the donation of blood. The reproduction in ministerial documents of old and outdated ideas will be immediately corrected."
  However, this error has been traced back to a much more serious instance of discrimination included in a form of the national vaccination plan (PNPV), dating from only 2017-2019. 
  Among the categories of people who are recommended for the vaccine for Hepatitis A, B and Human Pappilomavirus (HPV), are, as the document says, "men who have sex with other men." This was discovered in a form in Rome, and it is unclear where this wording has come from, if this is also another clerical error.
  Giovanni Toti, the President of Liguria, has said, "after a preliminary internal investigation of the ASL in La Spezia, it emerged that the error derives from a copy-and-paste from ministerial guidelines. Obviously this multiplies the mistake, it certainly doesn't cancel it. Equally obviously it consolidates my judgement of the total incapacity, ignorance, bad faith and stupidity of certain opposition, that would rather shoot mud than bother to learn and understand."
ol