New flagship for monitoring of Libya arms embargo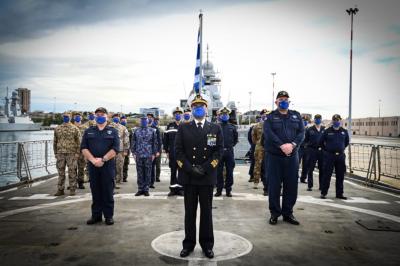 TARANTO - At the ceremony in Puglia attended by the Operation Commander Admiral Fabio Agostini, Operation Irini handed over the duties of flagship to the Greek vessel HS Aegean. The operation, launched on March 31, is concerned with the implementation of the UN arms embargo on Libya, monitoring the sea and air routes into the country.
  The ship, under the command of Commodore Theodoros Mikropoulos, will be taking over from HS Adrias as flagship of the operation led by EUNAVFOR, the EU Navy Force.
  During its 111 days at sea, HS Adrias investigated more than 1700 vessels, including 66 friendly approaches, 6 boardings and one diversion of a merchant vessel for infringement to the arms embargo. In their duty to also prevent the smuggling of oil, the ship monitored activity in 16 Libyan ports and oil facilities.
  At the ceremony on Tuesday, the crew of HS Adrias were awarded Common Security and Defence Policy service medals.
ol