Etruscan Museum reopens with livestream from tomb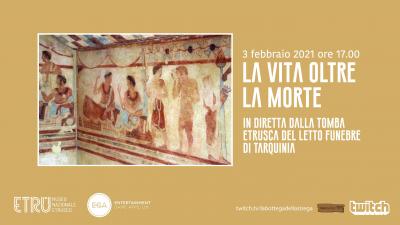 ROME - The Etruscan Museum at Villa Giulia has announced its reopening with a livestream to take place on Wednesday at 5:00pm.
  The museum, which opens its door again on Tuesday, will be streaming on Twitch, for the first time from the Tomb of the Funeral Couch, Tarquinia, an example of a frescoed tomb from around 480-460 BC. It is an extraordinary example of how the Etruscans celebrated the passage from life to death.
  On Wednesday at 12am, the museum will also be broadcasting the fifth episode of "identikit of a masterpiece", in which they will discuss a piece from their permanent collection, this time the Olpe Chigi, a ceramic greek amphora.
  The museum have planned many other virtual events to celebrate their collection, including an event on Feb. 10 entitled "At school with the Etruscans - the origins of Rome," aimed at young school children.
ol