Rescue ship lands 373 survivors in Italy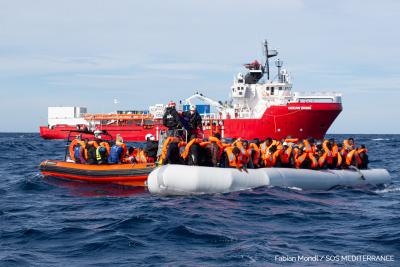 AUGUSTA – The Ocean Viking, a rescue ship operated by the European maritime rescue organisation SOS MEDITERRANEE, on Monday landed 373 rescued migrants into the port in Augusta, Sicily, having received approval from Italian port authorities.
  Crew members welcomed the announcement with relief as weather conditions have been deteriorating significantly over the past 48 hours, making the situation onboard very difficult to sustain for survivors and the crew.  
  "After weeks of bad weather, conditions off the Libyan coast improved earlier this week, which led to numerous departures of people trying to flee across the central Mediterranean on unseaworthy, overcrowded boats. Reports of shipwrecks and interceptions by the Libyan Coast Guard came in as the team on the Ocean Viking, the only civil rescue ship at sea this week, was engaged in intense search and rescue operations", says Luisa Albera, Search and Rescue coordinator onboard the Ocean Viking for SOS MEDITERRANEE.  
  "From the survivors on board we heard horrifying accounts of the inhumane treatment they endured in Libya. The past two days were extremely hard for the 373 survivors on board, as weather conditions deteriorated rapidly. Knowing we have numerous babies and small children onboard, who were especially struggling with seasickness, we feared another lengthy standoff with no solution in sight, as we experienced in the past," she continues.  
  "While we are relieved for the 373 people on our ship, we insist again that a return to an effective coordination of State-led search and rescue in the central Mediterranean is vital. Lives depend on it. And while civil society is filling this void, EU member states must find a sustainable solution for a swift and predictable disembarkation mechanism, supporting European coastal states and working to uphold maritime law at our common southern shores," says Albera. 
  Many of the survivors had previously attempted the dangerous sea crossing multiple times, but were intercepted at sea and brought back. 
  Among the survivors on board is a young man from Mali shot in an armed robbery in Libya less than two weeks ago. "In Libya, we were all crammed in a house together, we weren't free to go where we want. I was outside when the bandits came, and I wanted to run in to warn the others. When they shot me, I fell to the ground. They thought I was dead, they just left me there. Honestly, I also thought I would die. This happens all the time in Libya. I only got treatment for this wound 4 hours later, a friend showed me to a Cameroonian woman who was a doctor and took me in." 
  The Ocean Viking rescued 374 people from four rubber boats in distress in three different rescue operations in the Libyan search and rescue region within less than 48 hours on Thursday and Friday. Among the survivors are 165 minors. Nearly 80% of them are unaccompanied and 21 under the age of 4. Of the 48 women, four were pregnant and 32 traveling alone.
  In the past four days, following two requests for a Place of Safety to disembark made to the Libyan maritime authorities, the Ocean Viking asked for support to the Italian and Maltese Rescue Coordination Centres (RCCs) twice before being assigned a place of disembarkation in Augusta, Sicily, by the Italian authorities.