Business meetings mark beginning of G20 in Italy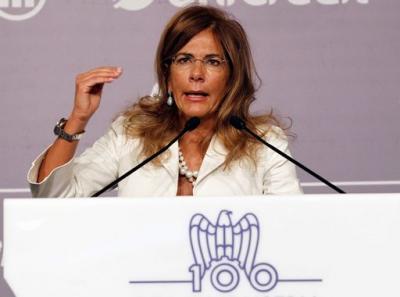 B20 chair Emma Marcegaglia
  ROME - The G20 Business summit, hosted by Confindustria, kicks off on Thursday with the inception meeting to mark the start of the whole year of G20 proceedings. 
  With Italy hosting this year's G20 summit, set to take place in Rome in late October, Confindustria, an association representing Italian manufacturing and service companies, will be hosting 2021's B20 engagement group. B20 is the most prominent of the engagement groups, dedicated to specific subjects, to meet in advance of October's G20 summit, and will see 1000 business delegates from the G20 member states meet, via teleconference this year, to discuss global business and economic strategy, in preparation for the October G20 summit with the heads of state.  
  The B20 inception meetings, which take place on Thursday and Friday, mark the start of this year's B20 cycle, ending with the final summit on Oct. 7-8, in preparation of the G20 summit, on Oct. 30-31, at which they will present their business and economic proposals to the political leader of the G20 nations. 
  The inception meetings, overseen by B20 chair Emma Marcegaglia, CEO of Marcegaglia Holding and former President of Confindustria and BusinessEurope, will also feature John Kerry, the United States Special Presidential Envoy for Climate; Roberto Gualtieri, the Italian Minister for Economy and Finance; David Sassoli, President of the European Parliament; Larry Fink, CEO of BlackRock and Michael R. Bloomberg. 
  After the first day of public meeting on Thursday, the second day of the inception meetings will take place behind closed doors, and will mark the real start of discussions, including proposals on climate change, business innovation, sustainability and the fight against inequality.
  Emma Marcegaglia has said, "this G20 will not be a walk in the park, we must make an impact and there are requirements for this to happen. When having had to confront a crisis, the G20 has led to much more effective results and proposals, and now it is up to us to identify the way out of this emergency."
ol