Pope lambasts holidaymakers fleeing pandemic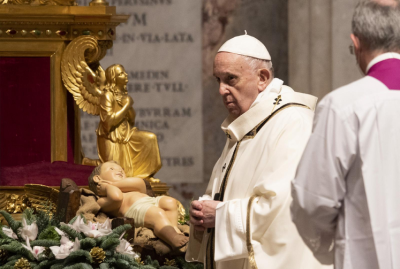 VATICAN CITY -- Pope Francis Sunday lashed out at the 'hedonistic' few who fly away from their countries on vacation rather than staying to help those in need during the Covid pandemic.
 "As Christians we refuse a fatalistic or magic mentality," the pontiff said after his weekly Angelus address, "We know that things will get better to the extent that, with the help of God, we work together for the common good, putting the weak and disadvantaged at the centre."
 "We don't know what 2021 holds for us, but what each of us and all of us together can do is commit ourselves a little more to take care of one another and the created world, our common home," the pope said.
 "It is true, there is the temptation to take care only of our own interest, continuing to make war, for example, concentrating on the economic profile, living hedonistically, that is seeking to satisfy only our own pleasure ..."
 "I read in the newspaper something that saddened me a lot -- in a country, I don't know which, to escape the lockdown and enjoy their holidays, as many as 40 planes took off that afternoon. But didn't those people, who are good people, think of those who stayed at home, of the problems of so many people that the lockdown has floored, of the sick?"
 "Only going on holiday and enjoying themselves. This pained me a lot."
 "I address a special greeting to those who start the year with greater difficulties, the sick, the unemployed, to those who live in oppression or exploitation. With affection I wish to greet all families, especially those with small children or expecting a birth. A birth is always a promise of hope."