Remembering World Cup icon Paolo Rossi, dead at 64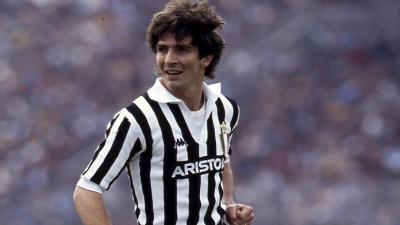 Paolo Rossi, Juvetus, 1981 Photo credit: Archivio Storico Image Sport
 ROME - Tributes continue to pour in for Italian football great Paolo Rossi, who will always be remembered for leading Italy to the 1982 FIFA World Cup title.
 Days after the football icon's death on Wednesday, aged 64, Dino Zoff, goalkeeper and captain of Italy's victorious 1982 squad, struggled to articulate his grief.
 "I can't understand. As soon as I found out, I thought it was a bad dream, a nightmare, really," Zoff said. "In recent times we didn't get in touch with Paolo with the same frequency as before. I knew he was not so well, I never imagined it was something so serious. So really, no. I'm destroyed."
 Giovanni Trappatoni, who managed Rossi for four seasons at Juventus, expressed his grief on Twitter: "Players are not supposed to leave before their managers." 
 Rossi won two Serie A titles and a European Cup while playing for Juventus. He also played for AC Milan.
 News of his death came Thursday from Italian television channel RAI Sport, where 'Pablito' worked as a punter. According to the sports broadcaster, he had been diagnosed with an incurable illness.
 Rossi's wife Federica Cappelletti who posted a picture of the pair on Instagram with the caption "Per sempre," (Forever) said he had died in her arms.
 "He didn't want to go, but I hugged him hard and I told him, 'Paolo, now go. Enough, you've suffered enough. Now leave this body,'" she said. "And then he went to sleep."
 Reflecting on the 1982 world championship that inspired the nation, Zoff said Rossi was unwavering despite the challenges he faced.
 "I remember it well, apart from the controversies with the press. Mamma Mia. I've always said it and I repeat it, we won those world championships thanks to Paolo's goals and Bearzot's tenacity, who turned us into a team and a group of men. But Paolo was fundamental, he never gave up," Zoff said.
 Born in Prato, Tuscany, on Sept. 23, 1956, Rossi made his professional Italian football debut with Juventus in 1973. After three knee operations, the then injury-prone player was loaned to Como, where he made his Serie A debut. 
 But it was when he joined Lanerossi Vicenza where he played as a centre forward that his career really took off.
 Rossi's skill as a striker earned his team a promotion to Serie A. His talent didn't go unnoticed by Italy's national team manager Enzo Bearzot, who selected him for the 1978 FIFA World Cup. 
 Rossi was disqualified from football for three years over the 1980 "Totonero" betting scandal. Though he had denied involvement and the ban was reduced to two years, he still missed the 1980 European Championship with Italy. 
 Returning to Juventus in 1981, Rossi came under attack by the journalists, who criticized his "poor shape," describing him as a "ghost aimlessly wandering over the field."
 The following year, Rossi scored six total goals in the 1982 World Cup tournament, before leading Italy to victory against West Germany.
 Recalling the media's unkind treatment, Zoff said – "Who can forget it? We knew that he was a formidable player, a serious athlete, we saw him every day in training, then everything became clearer for the others with those three goals against Brazil. The rest is history that everyone knows. The right man, at the right time and in the right way. It was his world championship and it is natural that it's that way, and you know why?
  "You see, at that time, all kinds of things were said about Paolo, but he always had a smile, even with the journalists, he was always joking, being ironic, and he worked. A lot. This was his strength, but not only in football, in his life. Available to everyone, with an extraordinary humanity."
 Only three players have earned the trifecta of the Golden Ball, the Golden Boot and a winner's medal at a World Cup: Garrincha (Chile 1962), Mario Kempes (Argentina 1978) and Rossi (Spain 1982).
 La Gazzetta dello Sport eulogized the Italian football hero as "the one who beat Zico's Brazil, Maradona's Argentina, Boniek's Poland and in the final, the Germany of Rummenigge."
 cc