Roberto's Panettone recipe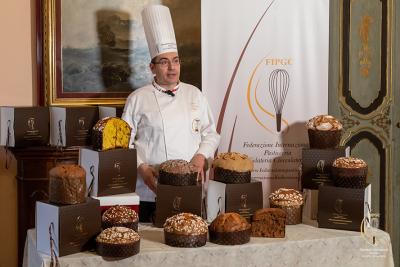 Roberto Lestani, President of the International Federation of Pasticceria Gelateria Cioccolateria, has provided his Panettone recipe for Italian Insider readers who may like to have a crack at creating the leavened treat just in time for Christmas.
PANETTONE RECIPE
First Dough – Ingredients 
•
2300 g
Flour for Panettone
Method
•
Mix all the ingredients except the egg yolks 
•
Once a gluten mesh is formed, add the egg yolks
•
Leave to rise for 12 hours at 24 °
Second Dough – Ingredients 
•
920 g 
Flour for Panettone
Method 
•
Once the first dough has tripled, mix it with flour and vanilla to form the gluten mesh
•
Add half of the sugar, half of the honey and half of the yolks; continue to knead
•
Add the butter and the remaining egg yolks
•
Finally add the water and candied fruit. 
•
Let it rise in the moulds 
•
Bake at 170 (degrees Celsius) for 55 minutes.
 *Note: You can test the gluten "mesh" 
by gently stretching out a thin layer of 
dough between the fingers; if you can 
stretch it thin enough so you can see 
some light shining through without the 
dough breaking, it is a sign that the gluten 
mesh has formed.