Sparkling Dolce Vita yarn recalls forgotten UP war reporter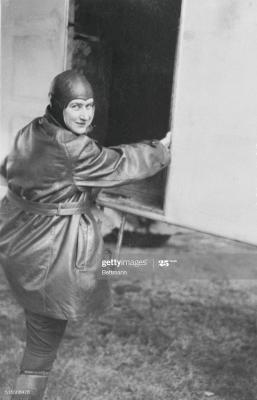 Eleanor Packard, United Press Rome correspondent boarding Italian observation plane while covering the fighting front in Ethiopia.
 ROME — The role of pioneering women war correspondents in the 20th century has been re-assessed recently in print and in films such as the movie about American reporter Marie Colvin who was killed on assignment in Syria. Still largely overlooked, however, is the colourful figure of Eleanor C. Packard who worked for the United Press in the Spanish Civil War, the Ethiopian War and the Second World War, before in her latter years becoming an institution at the Foreign Press Club in Rome together with her fallstaffian husband, Reynolds Packard.
 American First Lady Eleanor Roosevelt paid public homage to Mrs Packard (nèè Cryan) for her intrepidid service with Allied forces, but little is known about her other than the somewhat unreliable accounts her husband gave of their open marriage in his scabrous though often hilarious memoir 'Rome was my beat.'
 Anthony Delano's fast-paced new novel Dateline Rome, about journalism during the dolce vita heyday of the Eternal city in the 1950s and 1960s, goes some way to eliminating the lacuna in what we know of this distinguished correspondent. Delano, an Austrlian, was based in Rome as a scribe for the Daily Mirror at the time and evidently knew well Mrs Packard, known as Pibe, on whom the fictional figure of Caddie Rickard largely is based in his novel.
 The number of reporters still alive who worked with the legendary Packards is dwindling. Among them are Desmond O'Grady, Australian literary editor of the Italian Insider, who recalls Pibe as 'formidable.' Like Pibe, Caddie was known to land a powerful punch in the jaw of dames getting too close to Rick Rickard, despite the couple's supposed dedication to free love.
 Those who worked for the UP, which became UPI after the absorption of the Internation news service INS, in Rome will recognise other larger than life figures in the novel such as Charlie Cliff, the British bureau chief of the Centurion Press, evidently loosely based in part on the late Charles Ridley, another friend of Reynolds.
 Walking with Charlie to the Otello restaurant in the via della Croce when I was a young UPI reporter in the 1980s, he pointed to a building near the Piazza d'Espagna that he said used to be a bordello. "Pack would go in there to look at the wares on offer," he told me, "but he was terrified of getting venereal disease ..."
  Delano's engaging yarn about American wire service Shelby Stone's handling of intrigue and scandal between Cinecittà and the Vatican is a worthy successor to Reynold Packards' better book, 'the Kansas City Milkman,' a spoof on news agency journalism in Paris that is required reading in American journalism schools.
 Eleanor Packard was said to have been the first woman to have an audience with a pope while wearing slacks. In 1944, the day after the fall of Rome, she was in a group of correspondents waiting to see Pope Pius XII when officials asked her to leave because of her informal dress.
 At that point, the pontiff entered and walked over to her saying, "I presume you are American." She remained for the interview.
 Mrs. Packard, a heavy set woman, was forceful and forth right, outwardly tough and unkempt. She was much too busy covering wars, she would explain, to pay any attention to her appearance.
 She met her husband in 1930, when she was covering Paris for The United Press. Legend had it that they met in a bar, after Mr. Packard became embroiled in a fight and she interceded to floor his opponent.
 For their honeymoon, they went on an assignment in Vienna, and then to the South Seas. In the ensuing years, their work carried them to four continents, including a long stint in China.
 Mrs. Packard, who was born in New York City, attended the University of Washington and the Columbia School of Journalism.
Whether she may have had affairs with Count Ciano and even Benito Mussolini, as Delano suggests, are puzzles that will challenge an eventual biographer she deserves in the wake of the forthcoming book about Kate Webb, the redoubtable UPI New Zealand correspondent in Vietnam, penned by Elizabeth Becker.
 Delano's novel is a highly readable romp through an action-packed plot set against the background of Hollywood on the Tiber and the last days of Pope Pius XII.
 His attention to technical detail of challenges facing agency photographers and newsmen and women at the time authenticate a gripping period piece that reminds us how much more fun journalism used to be before the advent of internet and mobile phones as well as the vacuum left in media coverage after the sad demise of the street-fighting news agency UPI.  
Dateline Rome. Anthony Delano. Palatino publishing. 389 pages. Prices: Amazon paperback €10.7, Kindle €9.4; Book Depository (free worldwide postage) paperback €13.7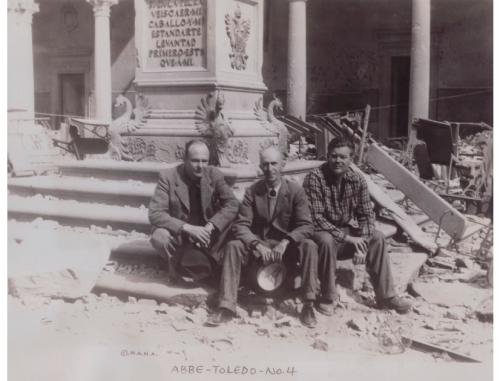 Reynolds Packard (right) covering the Spanish Civil War. Photo credit: National Portrait Museum