Rome street artist immortalises Hungarian 'gay orgy' MEP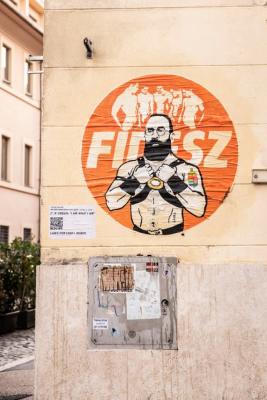 ROME – A poster depicting Jozsef Szájer, an MEP from Hungary's ruling party, who quit after being caught attending a "gay sex party," appeared Friday morning in the Eternal City's historic centre.
 Szájer's unexpected rise to fame came about when, on Nov. 27, he attended the house party in Brussels with some 20 others, in violation of anti-Covid rules. The now former MEP was stopped by police as he tried to flee.
 In her latest political statement, Laika portrays Szájer naked, with just a harness around his chest, in an outfit she describes as being for "intimate moments."
 In the background of the poster is the symbol of Hungarian Prime Minister Viktor Orban's Fidesz party, which is hostile to LGBT rights.
 Above the word FIDESZ, are five naked men representing Jozsef's 'orgy mates' in Brussels.
 "In Hungary, the Orban government literally declared war on the LGBT + community, depriving it of all rights in the name of so-called traditional values ​​and Christian roots," Laika said.
 "I dream of a world where everyone has the same rights, regardless of identity and sexual orientation, a society without prejudice. Straight, gay, lesbian, trans, bisexual, queer, etc. All human beings, all with the same rights," the artist said.
 "I dream a world where even Szájer can be free to live his sexuality the way he thinks, without hiding from the eyes of his own party."
 The street artist concluded by thanking Joszef for dealing "a severe blow to intolerance."
 "Today you are the new Hungarian gay icon. Next time, please respect the anti-Covid rules!" she said.
 Laika's mural can be seen in the Celio district, in Rome's historic centre, at the corner of via Ostilia and via di San Giovanni in Laterano.
 cc