Salerno poet lobbies Crusca Academy against discrimination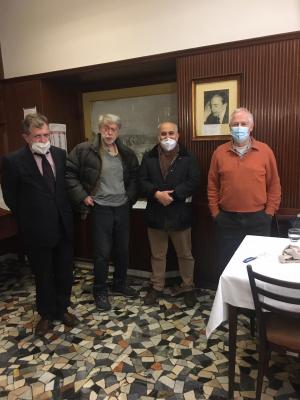 Poet Francesco Terrone (centre right) with correspondents Philip WIllan (right), Desmond O'Grady, (centre left) and Insider chief editor John Phillips (left) photo: Italian Insider.
  ROME – The respected Salerno poet and entrepreneur Ing. Francesco Terrone joined leading correspondents from the Foreign Press Association at an Italian Insider literary lunch held at the historic Abruzzi restaurant once frequented by the Roman poet Trilussa.
 Times of London correspondent Philip Willan and Desmond O'Grady, author and veteran correspondent of the Sydney Morning Herald, joined Ing. Terrone together with the Insider's chief editor John Phillips at a table in the restaurant near the Piazza XII Apostoli and the Gregorian University.
 As part of his longstanding campaign against northern discrimination against the Italian south, the poet and businessman recently wrote to the prestigious Accademmia della Crusca asking that a pejorative definition of the word 'terrone,' used by northerners to mean 'peasant,' be removed from dictionaries in Italy.
 Trilussa presided sagely over the discussion from a photo on the wall over the table.
 Ing. Terrone briefed journalists on the activities of the Francesco Terrone foundation that he launched recently with a number of illustrious participants on the board.
 jp
Poet and businessman Francesco Terrone, in the shadow of Trilussa at the Abruzzi restaurant