Italy and Turkey strengthen ties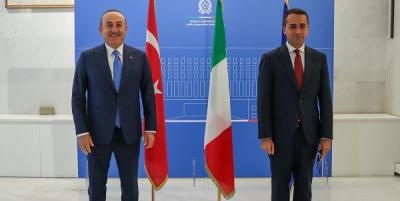 Turkish Foreign Minister Mevlüt Çavuşoğlu with Italian counterpart Luigi Di Maio in Italy on Oct. 2 Photo Credit: Republic of Turkey Ministry of Foreign Affairs
 ANKARA – Despite current disagreements between Turkey and Europe, the relations between Italy and Turkey have proven to be unshakeable and powerful.
 Not surprisingly, most countries act in the interests of their national identity in response to the global spread of coronavirus, yet the diplomatic ties between the two countries developed at a remarkable pace. For instance, significant bilateral meetings were held in Rome.
 On Oct 2, Turkey's Foreign Minister Mevlüt Çavuşoğlu paid an official visit to Italy. Mr. Cavusoglu and his Italian counterpart Luigi Di Maio exchanged views on bilateral relations and discussed preparations for the third Turkey-Italy Intergovernmental Summit during the meeting. They also evaluated current regional and international developments, as well as the fight against COVID-19.
 Following the meeting, Cavusoglu spoke at the Joint Press Conference. As both countries are members of NATO, Cavusoglu said – "As Turkey, we consider Italy a strong NATO ally and a balanced partner in regional issues." He added, "We are targetting to increase the bilateral trade volume with Italy to 30 billion US Dollars," that is currently at 19 billion US dollars.
 Minister Cavusoglu stated that the Joint Economic and Commercial Committee (JETCO) and the Business Forum would be convened in the up-coming period. Turkish Defense Minister Hulusi Akar also met his Italian counterpart Lorenzo Guerini in Rome to discuss bilateral and security issues as well as the latest developments concerning Libya and the Eastern Mediterranean.
 Turkey is the second largest trade partner for Italy among the EU countries after Germany. The base of their win-win economic strategy comprises various industrial sectors, such as manufacturing and tourism. In addition to being the most significant economic partner for Italy in the Mediterranean region, the country has more than 1,500 Italian companies that are operating, for the time being. This exemplifies Italy's trust in the Turkish market and industries that are considered to be areas for potential strategic investments.
 On account of its important geographical location, Turkey acts as a regional and international economic hub for Italy. It is the door to markets, such as the Middle East and the Caucasus, while Italy is a gateway to Europe for Turkey.
 Turkey is also among the top 10 travel destinations favored by Italians. Italian Tourists visiting Turkey increased to 365,000 in 2019 from 208,000 in 2016.
 As a result of the current pandemic, which has led to restrictions and a reduction on export demand, in order to create a mutual benefit, Italy and Turkey could have a game-changing role in the world via joint effort. The Italian-Turkish relationship is on solid ground and both countries are positioned as yielding opportunities for industries in the medium-term.
 It is apparent that the global economy is under pressure, particularly in specific sectors inclusive of infrastructure, machinery and aerospace. As a consequence of such beneficial aspects as production, skilled workforce, free trade agreements, logistic infrastructures, advanced technology and digitalization, Turkey has an important presence as a destination for the delocalization of investments.
 At the first summit between the Turkish and Italian governments held in Izmir, Turkey, in 2008, the leaders had decided to hold the meeting annually on a rotating basis. The second Turkey-Italy Intergovernmental Summit was held in Rome on May 8, 2012.
 dk-cc