Global Tiramisù challenge to aid Venetian tourism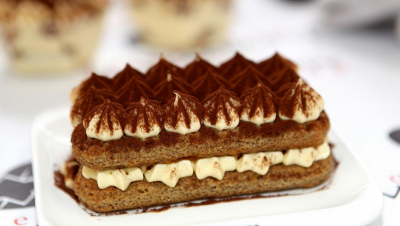 VENICE – Dessert lovers from all over the world are being offered a unique opportunity to join the "Tiramisù Global Marathon," a non-stop event aimed at raising funds to support the catering and tourism micro-enterprises in Italy's lagoon city.
 The initiative, a collaboration between the Tiramisù World Cup (TWC) and the Tiramisù Academy, will see hundreds of amateur chefs – young and old – connecting Nov. 29 on the Zoom platform to share their love of the famous ladyfinger (savoiardi) dessert.
 Foodies, culinary friends and fans, all watching from the comfort of their own homes, will be able to follow the live event on Facebook as contestants soak the savoiardi in coffee.
 The three best Tiramisù will be awarded and their recipes will receive wide visibility on the channels of the organizers and through the media partners.
 "We have already gathered participants from the United Kingdom, France and Belgium, as well as Brazil and, of course, Italy," explains Francesco Redi, creator of the Tiramisù World Cup and founder of Twissen. "Especially in such a period, this is a way for us to keep the large community of dessert lovers united and enthusiastic.
 "There will be guests like the TWC Champions, professionals in the sector, renowned pastry chefs, sommeliers as well as Tiramisù experts: all telling their stories; someone will honour us with a cooking class; and maybe they will reveal the secrets about the most unique recipes they have encountered in their careers."
 The organizers are linking the marathon to a fundraising campaign to aid tourism activities in Venice: "It is undeniable that tourism is the sector most affected by this pandemic and the consequent repercussions are affecting an induced activity that is really extended to different areas," Redi said. "This is why we wanted to make our (small) contribution to the cause, raising awareness of the economic recovery that we hope will come soon."
 To register for the event and find out more information, you can visit www.tiramisuworldcup.com or follow their social media pages on Facebook, Instagram, Twitter and Linkedin.
 cc