Catholic Church welcomes Biden victory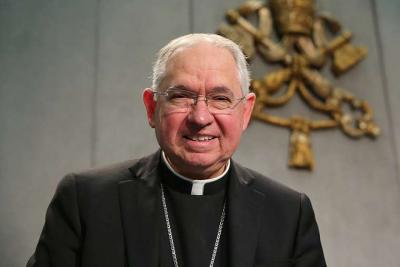 Archbishop Jose Gomez. Photo Credit: Daniel Ibanez/CNA
 ROME – As Donald Trump pursues legal challenges to the US election results, the Catholic Church has joined world leaders in congratulating Joe Biden as American's President-Elect.
 "We congratulate Mr Biden and acknowledge that he joins the late President John Fitzgerald Kennedy as the second president of the United States to profess the Catholic faith," President of the US Conference of Catholic Bishops Josè Horacio Gomez said on Saturday.
 "We also congratulate Kamala Devi Harris, who becomes the first woman in history to be elected Vice President."
 In 2015, Biden as Barack Obama's vice president, had welcomed the pope to the US Congress where a pontiff had never been invited to speak before.
 It is no secret that the Holy See and the Trump administration have not seen eye to eye. But an official congratulatory telegram from the head of the Catholic Church – Pope Francis – to Joe Biden will arrive only after the presidential inauguration on Jan. 20, as is Vatican protocol.
 The clashes between the Holy See and the Trump administration began months before the Republican was elected to the White House.
 In an interview during his presidential campaign Trump described Pope Francis as a man of politics and a pawn, an instrument of the Mexican government to favour a policy of immigration.
 Responding to Trump's attacks the pope said – "Thank God he said I am political because Aristotle defines the human person as an "animal politicus"; And if I'm a pawn, well, maybe, I don't know. I'll leave that to your judgment, to the people's. And then, a person who thinks only of building walls, wherever that might be, and not of building bridges, is not Christian. This is not in the Gospel. With regard to what you were telling me, what I would advise, to vote or not to vote: I'm not getting involved. I would say: if he says these things, this man is not Christian."
 The American billionaire countered with – "The pope is a very political figure."
 In his statement to the President-Elect Archbishop Gomez underlined that "the American people have expressed themselves in these elections. Now is the time for our leaders to come together in a spirit of national unity and to commit themselves to dialogue and compromise for the common good."
 "As Catholics and Americans, our priorities and mission are clear. We are here to follow Jesus Christ, to bear witness to his love in our lives and to build his kingdom on earth. I believe that at this time in the history of the United States, Catholics have a special duty to be peacemakers, to foster brotherhood and mutual trust, and to pray for a renewed spirit of true patriotism in our country," Archbishop Gomez said. "Democracy requires that all of us conduct ourselves as people of virtue and self-discipline. It requires that we respect the free expression of opinions and treat one another with charity and civility, even as we might disagree deeply in our debates on matters of law and public policy."
 cc