Interview:Algeria's leaders 'mean business' with reform referendum, says the Algerian Ambassador to Italy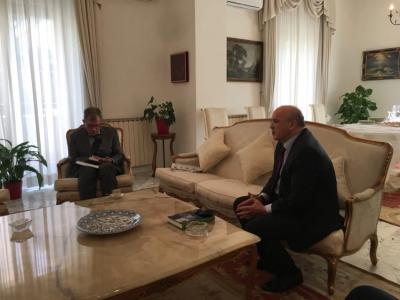 The Algerian Ambassador to Italy, H.E. Ahmed Boutache (right) with Insider chief editor John Phillips. Photo credit: Ambassade d'Algèrie
 ROME – Algeria's upcoming referendum gives the north African nation a chance to reform its constitution meaningfully for the first time since independence, including preventing a repeat of the recent reviled efforts to perpetuate one man remaining in office indefinitely, the Algerian Ambassador to Italy, H.E. Ahmed Boutache says.
 "This time the political leaders do indeed mean business," Mr Boutache, a widely-respected career diplomat who has served in posts as diverse as South Korea, Bulgaria and Mali, told the Italian Insider in an interview after recently starting his mandate in Rome as Algeria's man on the TIber.
 The draft Algerian constitution that will be decided by a referendum being held Nov.1, after a campaign that opened Wednesday, has been criticized by some jurists and rejected by a group of parties who are sceptical whether it will do anything to separate state powers from the military, the ultimate power broker in Algeria, or to provide guarantees for press freedoms.
 However the Ambassador said "I do believe the referendum is going to bring fundamental changes in terms of separation of institutions. I would not say it will bring freedom of the press – it will simply reinforce it. In Algeria, for example, there are as many as 180 daily newspapers. No other country in the Arab world or Africa has so many publications on a daily basis."
 The Algerian envoy acknowledged that "the constitution has indeed been reformed or amended quite a few times, especially during the recent past to try and make the head of state's hold on power quite strong by increasing the number of presidential terms."
 "This time what is aimed at is to correct all these mistakes that have been made during the previous amendments. For example (under the new draft constitution) the maximum number of mandates for the president is two and this article will never be allowed to change. The referendum is taking into account the need to improve governance."
 Fundamental change in Algeria to dislodge a military-backed political clique has been demanded by the Hirak movement that began in February 2019 after an ailing President Bouteflika who was almost never seen in public for years announced he would run for a fifth term as head of state. Protests were put on hold in March 2020 given the emerging Covid-19 crisis. Numerous news websites remain blocked and a clampdown on opposition activists has continued but Mr Boutache points out that large scale protests everywhere have been circumscribed due to Coronavirus.
 "The protests had been going on for about a year or slightly more in a very normal pacific way but they came to a halt simply because of Covid. Hirak is pursuing its activities on internet, in the media, in newspapers. It is present in daily activities in the daily language of the people."
 "Why aren't we questioning why the gilets jaunes are not on the streets of Paris? The whole world is affected by Covid."
 From his vantage point in Rome, the Algerian Ambassador is a key emissary monitoring political developments in the Mediterranean. Recently it has been reported that the European Union could impose sanctions on Turkey, with Turkish naval vessels often coming into conflict with Greece over energy resources in the Mediterranean. How will Algeria position itself?
 "Both Turkey and the EU are important partners of Algeria. Whether we like it or not our interests, be they economic,  political or strategic, commit us to maintain balanced relations with each and every one of our partners. Turkey is a very important partner, economically and strategically as well. So is Europe, including an agreement as an Associate Member. This agreement is now going through some difficulties because we have to start dismantling our tariffs barrier starting Sept. 1. Unfortunately this comes at a time which is difficult for our country. The oil price is quite low. The economy is rather dwindling. Of course one manages to keep the engine running. We have no external debt. We also do have comfortable savings in terms of foreign exchange reserves."
 "Nevertheless within the next two years we should find solutions for all the problems on the economic front. We have to be quite selective in choosing the right partners with whom we should work in the coming years to get out of the doldrums in a very efficient way. "
 As a pioneer of natural gas exploitation, Algeria has built gas pipelines to Italy and Spain and is preparing to build another one to Italy but the economic recession and Covid have slowed that project down also.
 "Today we are witnessing a new group of gas powers including Cyprus and Egypt. Algeria is not part of that group," The Ambassador said. "I do not know what the future will hold for this group. I can't say if Algeria might participate. It is too early."
 Mr Boutache sees recent tension between Turkey and Greece over energy resources as "muscle-flexing" unlikely to lead to war. Under the International Law of the Sea Convention Algeria has been one of the most recent countries to adopt a maritime exclusion zone and has been in negotiation recently with Italy and Spain on the question.
 Algiers and Rome also are cooperating on the question of illegal migration from Algeria to Italy though only some 5 percent of recent illegal arrivals in Italy come from Algeria, or some 1000 migrants. The Italian Interior Minister Luciana Lamorgese travelled to Algiers Sept. 16 where she met with senior officials and discussed repatriation of Algerian nationals, an area already governed by a bilateral accord of 2002.
 Most illegal migrants come to Italy from Libya which "is quite another issue," the ambassador added., noting that the efficiency of the European Union Naval Force Mediterranean Operation IRINI "needs to be improved."
 As Europe sees an uptake in Coronavirus cases, meanwhile, the Algerian R rate has fallen. "Algeria has also been hit," the Ambassador noted, "nevertheless the figures are not what we have witnessed in France, Spain and Italy. The situation has improved. Yesterday we had roughly about 140 new cases. But take into consideration that schools are still closed, universities have only partly resumed and borders are closed … In the future when these activities resume we will certainly notice an increase. But like in Italy we have learned how to deal with the pandemic. We are much better equipped …"
 Among those hit by Covid have been Sahrawi refugees in camps in Algeria where the World Food Programme and other organisations have been assisting people. "WFP has been assuming its duties in a very correct way," the Ambassador concedes.
 The ambassador dismisses reports of a possible terrorist cells emerging in the Sahrawi camps as propaganda. "What Polisario are fighting for, for more than 40 years, is simply their independence. Frustration? Yes, they are frustrated, but why? Because at least two generations have known nothing else but refugee camps. What has the international community done to bring the main partners in this conflict, the Sahrawi people and Morocco, to come to terms to make an end to it?"
 "The United Nations are in charge but there are no tangible results and they could do more. Are we waiting for one more generation to be raised in these camps to find a solution?"
 On the topic of Palestinian refugees, the ambassador is adamant that Algeria will never abandon its traditional radical stance to follow the recent recognition of Israel by the UAE and Bahrain. "Everybody know that contacts and relations one way or another have been under way so it was almost predictable."
  "As far as Algeria is concerned the president of the Republic met with journalists last week. He clearly said Algeria, according to the current situation, will not normalize its ties with Israel."
  Among issues on his agenda in Rome, H.E. Boutache is confident that a forthcoming high-level committee meeting in the Eternal City will provide another opportunity to make progress on the idea of an Erasmus programme for Mediterranean universities.
 Recalling the common history of Algeria and Italy, the Ambassador recently made a trip to the Mamertine Prison where historians believe King Jugurtha of Numidia rests.
 "Relations between Algeria and Italy are deeply rooted in history, as demonstrated by the fact that Jugurthia was here in Rome a bit over 2000 years ago. The visit demonstrated the strong historical ties. In terms of cultural heritage Algeria and Italy share a lot. There is very wide room for development of cultural cooperation between the two countries."
 "I do not find the level of cultural cooperation satisfactory, much more can be done. I will certainly make sure no effort is spared for this to become reality," HE Boutache told the Italian Insider.
 Additional research: Cesira Colleluori and Jack Morgan Jones.
 jp-cc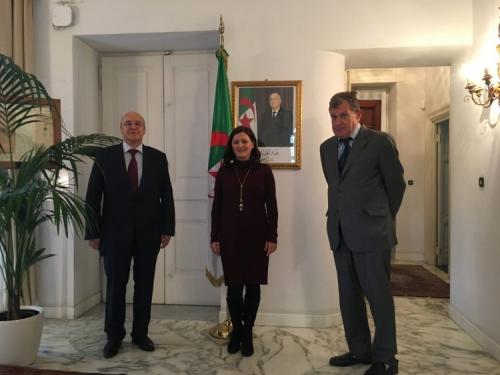 Algerian Ambassador HE Ahmed Boutache with Insider journalists Cesira Colleuori and John Phillips. Photo: Algerian Embassy