Italy-EU anti-crime amid COVID challenges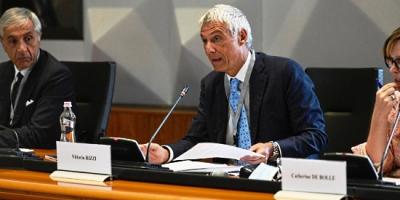 Prefect Vittorio Rizzi (Centre)
 ROME – A Working Group convened at Scuola Superiore di Polizia (Italian Police Institute) brought together representatives of European countries most affected by the pandemic and dealing with risks of infiltration of organised crime into the economy and, more generally, with the security threats as a result of the spread of COVID 19.
 The project conceived and co-chaired by Italy and Europol had its first face-to-face meeting, after a video conference held in June, and represents a unique international direction room aimed at strengthening international police cooperation to counter the criminal risk related to the spread of the pandemic.
 The heads of the police forces of Austria, France, Spain, Switzerland and the United Kingdom attended, while Germany, the Netherlands, Poland and Sweden participated online. The meeting was chaired by the Executive Director of Europol, Catherine De Bolle, together with Deputy General Director of the Department of Public Security, Prefect Vittorio Rizzi, who coordinates a similar Working Group set up at national level on behalf of the Minister of the Interior Luciana Lamorgese and the Head of Police, Prefect Franco Gabrielli, representing the Italian law enforcement during the work of the Group.
 Italy has agreed with Europol on the organisation of the face-to-face meeting and strict health protocols were taken to ensure a safe meeting: all delegations have been previously tested for COVID-19 and all requirements have been followed to ensure that both participants and the facilities were safe.
 Virus and the mafia, COVID-19 economy, dark money, increasing of violence in some areas of the world: these issues were addressed at the meeting, where the Group will also discussed the preparation and resilience of the police forces, which is not only an emotional challenge, but also means organisation, methodology, science and procedures to be respected. Amid a challenging landscape, a strong and clear message: the epidemic caused by COVID-19 has not stopped the fight against crime and has not succeeded in stopping international police cooperation, which, on the contrary, has been strengthened in order to constitute the best possible barrier to all forms of crime.
 gn-cc
Italian Police Chief Franco Gabrielli