'End Italian universities' discrimination before we die,' Italy's ageing foreign lecturers tell EU Parliament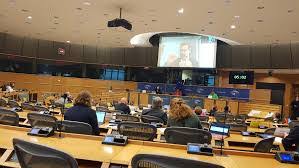 European Parliament Petitions Committee in session
 BRUSSELS- The head of foreign lecturers at Italian universities, David Petrie, Tuesday challenged the European Parliament Petitions Committee on Italy's unilateral refusal to uphold its Treaty obligations to end decades of discrimination against the academics.
 "Does the Committee see circumstances in which a member state may be justified in suspending by Decree law,  its obligation to uphold the EU Treaty   - and in particular Articles 47  and 21(2) of the EU Charter on Fundamental Rights?" Prof. Petrie, head of the foreign lecturers' association ALLSI, asked.
 "Italy has been found to be in breach of EU single market rules that prohibit discrimination based on nationality - in six judgments in the European Court of Justice," Prof. Petrie, 69, told the Committee by video link.
 "The Italian state should have fully implemented the judgements of the courts - but to date has not done so."
 The lecturers Parliament's complaint of 30 years discrimination based on nationality is also under scrutiny by Parliament's Brexit Steering Committee, chaired by Guy Verhofstadt
  Up to 260 non-Italian lecturers are still currently in court suing for arrears on their wages and pension contributions. In 2011 The Commission opened an EU Pilot Case - aimed at resolving the problem quickly and in a friendly manner.
 "The so called Gelmini law - which I warned the Petitions Committee about in my intervention on 25 January 2011 - had a clause that "extinguished" pending court cases.
 This resulted in many of my colleagues having their cases automatically terminated in the domestic courts," Prof. Petrie continued.
 "Not until Aug.2,  2017,  was this practice deemed illegitimate when the (Italian) Court of Cassation said, in essence, that cases pending could only be automatically terminated if
they favoured the plaintiff/lecturers."
 Italy introduced further norms: Article 11 of law n 167 of 2017 and an Inter-Ministerial decree law n.765 of 16 August 20193 which purports to put into effect Art 11 and fulfil
Italy's obligations to the EU by means of a supplementary contract to be co-funded by the state and the universities.
 "However, this decree contains a clause asking us to sign a declaration renouncing … and I quote, renouncing 'all the acts and / or any and all legal action - already
pending and / or to be instituted, in merit and / or executive, Doc 1 in your files.' That is to say, we are asked to renounce all legal protection as European Citizens under
Article 47 of the Charter of Fundamental Rights."
"Madam President, your predecessor Mrs Cecilia Wikstrōm on 23 January 2018 sent our petition to the Parliament's Brexit Steering Committee, chaired by Guy Verhofstadt, that, if I may say so madam president, was rather prescient of Mrs Wikstrōm and the Petitions
Committee - given the current debate on International Treaty Obligations," Prof. Petrie added.
 "Finally I have a question for the Commission: The ECJ has found on two occasions that Italy had failed to uphold its Treaty obligations in the foreign lecturers cases. We fear the Commission has thrown in the towel.
 What measures can and will the Commission take before I join the substantial number of my EU colleagues who are already in their graves?" Prof. Petrie asked.
 jp
Professor David Petrie, President of the Association of Foreign Lecturers in Italy, with Andrew Bridgen MP, who has campaigned tirelessly for the lecturers' cause