Apulia, art and photography encounter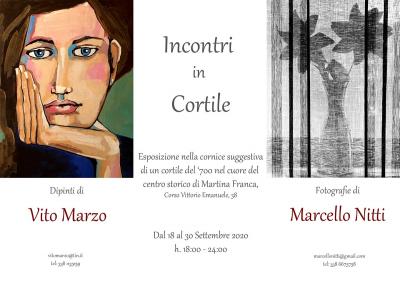 MARTINA FRANCA – From Friday 18 until September 30, in the splendid setting of the courtyard of one of the most evocative 18th century palaces of Martina Franca, located along Corso Vittorio Emanuele at number 38, hosts the exhibition entitled Encounters in the Courtyard with the paintings of Vito Marzo and the photographs of Marcello Nitti, with free admission in full compliance with anti-COVID regulations. An original exhibition space that, in a certain way, breaks with the tradition of the closed space of a gallery to offer open and free access, inserted in the context of an Apulian town, near Taranto, known for the liveliness of its cultural ferments.
 The watercolours by Vito Marzo on display were mostly made in the period of the lockdown, and have as their theme some female images and feelings of expectation, solitude, reflection; in turn, Marcello Nitti has already held renowned exhibitions of his photographs abroad, in Sweden, and those exhibited in the courtyard are an extract of his illustrative themes, summarized here in touches of monochrome transparencies.
 The exhibition is designed and built according to minimalist criteria, which respect the content of the works at the same time enhancing the container that houses them.
 The exhibition offers itself almost as a counterpoint between two expressive forms that are often assimilated according to the contents treated and it is often difficult to distinguish the artistic or documentary characteristic of each.
Martina Franca (Taranto)
Via Vittorio Emanuele 38
Hours: 18:00 - 24:00
Free admission, Info 3381135159
gn-cc
Watercolours by Vito Marzo