Opinion: Trump, the pope and an exiled prophet
President Trump and the first lady visit St. John Paul II National Shrine in Washington in June, 2020
 In the photograph above it looks as though Saint John Paul II is blessing the Trumps. Washington Archbishop Wilton Gregory called Trump's visit 'reprehensible.'
 Why would the Archbishop of Washington treat a President of the United States in such a way?
 The answer is that it is an election year.
 Strangely at this election time, who is Catholic and who is not has become an important question. I can present the players and the main ideas. However, I reserve my judgement until I hear from the Prophet who has put his life in danger by telling the truth about the Pope and the President.
 Archbishop Gregory's disdain for President Trump mirrors that of the United States Catholic Bishops Conference. A recent article in Crisis Magazine asks Are the Bishops colluding with the Democrat National Committee? Is disdain too strong a word? I think it is not because the only clear policy of the DNC has been hatred of Trump.
 The Liberal Catholic Bishops are in step with the deep state in Rome under Pope Francis.
 Should Catholic voters listen to their pope?
 They should first consider who he is.
 President Trump says the word "God" more than Pope Francis because the pope is always talking to us about climate change, immigration, and about worldly social issues. The pope does not like the President.
 Pope Francis is an open-borders globalist. Referring to Trump he has said, "anyone who wants to build a wall to keep out migrants is not Christian."
 He has complimented Bishops in the United States who promote Black Lives Matter. He probably does not understand that the BLM racial inequality idea has been taken over by the violent Marxist mobs who hate America. I am sure Pope Francis knows very little about what is really happening in the United States. You can read about it in my recent article about Black Lives Matter.
 The council of Trent said that a sinful priest can still forgive sins in confession by virtue of the powers from his ordination. The pope is still the pope. Pope Francis dresses for the part and performs papal duties. Woody Allen said showing up is 80% of life. However, it is unfortunate that the Vicar of Christ on earth is obsessed with worldly politics.
 Bergoglio has characterized his critics as wealthy American conservatives. He used the term conservative in a political sense. I would call them orthodox defenders of the Church of the Apostles who are scandalized by his Modernist adventures.
 Pope Francis has said that some speeches today sound like the Nazis in 1934. He is critical of nationalism. That is consonant with his globalism. The populists of today maintain that nationalism is not always bad.
 How can we know more about the pope? Providential wisdom has given us a voice crying in the wilderness to tell us more about the pope and the president.
The prophet in exile, hiding in fear of his life, isformer Apostolic Nuncio to the United States, Archbishop Carlo Maria Viganò.
 Big news in the Catholic world was made a year ago when Archbishop Viganò wrote a bombshell letter calling on Pope Francis to resign on the grounds that he had tolerated a known sexual abuser.
 Viganò said that in a face-to-face meeting with Pope Francis he told the pope that Cardinal McCarrick was a sexual predator. Pope Benedict XVI had previously issued a restriction on McCarrick in 2008 for sleeping with seminarians. McCarrick ignored the restrictions and became even more publicly active than before and Pope Francis allowed it.
 After that letter was published, Archbishop Viganò turned off his phone, told friends he was disappearing, and he has gone into hiding.
 The prophet in exile has chosen to meet secretly with a friend of mine, the renowned writer and publisher of Inside the Vatican Magazine, Dr. Robert Moynihan who publishes Viganò's letters. In today's boring world of knowing everything because every little thing is online, I love to imagine those two men meeting secretly over vino in a café, or on a boat, or in the woods.
 A young American research journalist, Julia Meloni, has uncovered homosexual lobbyists in the church: cardinals who have been reportedly meeting in the town of Saint Gallen, Switzerland, and have characterized themselves as a mafia. They want to make a new church. The ideas for the "New Church" are Modernist ideas, married priests, women priests, and changes in the church's outmoded archaic ideas about sex and marriage.
 Archbishop Viganò has understood what Meloni said and he too has written about it. The abuse is still being covered up. It is not clericalism, it is not paedophilia, it is homosexuality. Homosexuality is covered up just because the worldly secular culture favours same sex relationships and gender manipulations.
 Joe Biden touts his Roman Catholicism, as does Nancy Pelosi, but Biden was refused Holy Communion by a priest in South Carolina because of his support for abortion in all months of pregnancy. Some in the church say that this hypocrisy can be grounds for excommunication.
 American Cardinal Raymond L. Burke, prefect of the Vatican's highest court, has more to say, "The Democratic Party (in the United States) risks transforming itself definitively into a 'party of death' … it is not licit to give Holy Communion to one who is publicly and obstinately a sinner. And it is logical that one who publicly and obstinately acts in favour of procured abortion enters into this category."
 What should a voter who is Catholic, Protestant, or Muslim, think of President Trump? First of all, he is for Freedom of Religion.
 Catholic voters should be pleased that he acts upon Catholic beliefs and principles.
 The Republican National Convention ended with American tenor Christopher Macchio singing Ave Maria from the balcony of the White House.
 President Trump is the most pro-life president ever. He attended the March for Life in 2019. His first act as president was to stop one of the country's big exports, abortions.
 His anti-Globalist ideas about returning manufacturing to cities and towns is related to the Catholic socio-economic doctrine of subsidiarity, that local is good.  
 Trump pulled American troops out of a vulnerable position between Syrian forces and advancing Turkish troops. He acted in accord with Catholic Just War Theory that has in it an element of having the necessity for a chance of success.
 He showed his understanding of proportionality in Just War Theory when our drone worth millions of dollars, was shot down in the Middle East. The retaliatory response was ready to go in ten minutes, and the President asked what the cost would be. The answer was only 150 casualties. He said stop, we cannot compare human lives with dollars.
 The Trump Doctrine is to make economic war with enemies and bring young men and women home thereby staying out of wars that have been going on for centuries.
 Let's allow the prophet to have the last word. He chides Archbishop Gregory for his disgraceful remark to the president of the United States. And then he writes about the good and the bad as he says in a biblical sense contrasting the Modernist pope and the religious president.
 Archbishop Viganò still in exile for his life out of the blue, sent a letter to President Trump.
 He wrote – "In recent months we have been witnessing the formation of two opposing sides that I would call Biblical: the children of light and the children of darkness.
 "For this reason, I believe that the attack to which you were subjected after your visit to the National Shrine of Saint John Paul II is part of the orchestrated media narrative which seeks not to fight racism and bring social order, but to aggravate dispositions; not to bring justice, but to legitimize violence and crime; not to serve the truth, but to favour one political faction. And it is disconcerting that there are Bishops – such as those whom I recently denounced – who, by their words, prove that they are aligned on the opposing side. They are subservient to the deep state, to globalism, to aligned thought, to the New World Order which they invoke…"
Archbishop Carlo Maria Viganò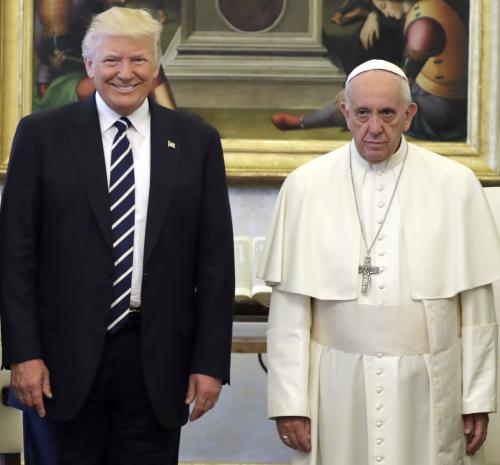 Pope Francis meets with President Trump at the Vatican in May, 2017