Migrants' Italy university scholarship bonanza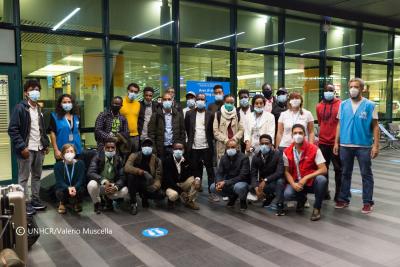 Photo credit: UNHCR/Valerio Muscella
 ROME – Twenty refugees awarded Italian university scholarships have landed in Italy as part of the University Corridors for Refugees project, The UN Refugee Agency said in a statement on Friday.
 The "University Corridors" program – a collaboration between The Ministry of Foreign Affairs and International Cooperation, UNHCR, and other partners – is aimed at empowering refugees from war-torn countries by giving them the opportunity to pursue studies and develop their talents at universities throughout Italy.
 The students from Eritrea, Sudan, South Sudan and the Democratic Republic of Congo, chosen on academic merit and motivation, will be on two-week mandatory Covid-19 quarantine before starting their studies.
 Only three per cent of refugees globally have access to higher education, according to the UNHCR report, Coming Together for Refugee Education, published last week.
 By 2030, UNHCR hopes to increase that figure to 15 per cent.
 cc