Pope Francis snapped for first time with face mask
Pope Francis Photo credit: Eric Vandeville
 VATICAN CITY – Vatican watchers mused over Pope Francis' policy on combatting coronavirus after he was photographed briefly wearing a mask when he was driven to the second weekly general audience with a live audience since his tiny city-state eased lockdown.
 The pontiff was pictured removing the mask while emerging from a limousine that whisked him to the San Damaso Square and he presided over the audience barefaced but issued a stern warning to hundreds of pilgrims and tourists in the audience to respect social distancing.
 "Do not crowd together, there is a chair for each one of you to avoid infection," he said.
 With hands freshly sanitized, the pontiff was in his element as he interacted face to face with pilgrims. Still, while blessing images and objects, he gestured at one tourist who was getting a little too close.
 Among letters and gifts from the faithful, the pope received a fedora-style hat, which he tried on for size but quickly gave back.
 jp-cc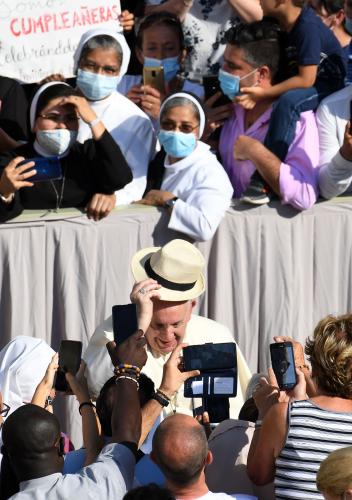 Photo credit: Eric Vandeville