Algeria and Italy define agenda for business agreement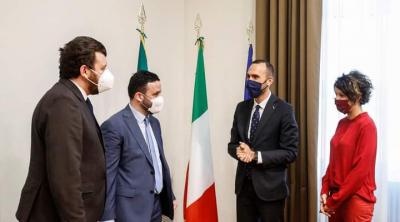 Diafat Nassim and Mahdi Oualid in Rome
ROME – An Algerian delegation, including two ministers, arrived in Rome in August to discuss and draw up a short-term business agenda between the two countries.
 The meeting also established a shared programme between the nations in two sectors, modern technology and small and medium businesses (SMB). The Algerian delegation included minister of Micro-enterprises, Nassim Diafat, and the Minister in charge of economy, knowledge and start-ups, Yacine Oualid. The two delegations were also hosted by Ahmed Boutache, Algerian ambassador to Rome, in his residence where the Algerian group insisted upon the importance of targeting specific sectors and acting quickly to allow both nations' young people to use their creativity in helping their economies.
 The establishment of a support fund for start-ups in both countries will aid the effort to enhance these sectors, as the minister commented the fund "will enable financing in accordance with the nature and demand of innovative businesses." To be based upon "risk capital" funding mechanisms, the fund will target specifically new and innovative high-tech businesses and, according to the minister, "translates the will of the Algerian state to invest in young people's energy, ideas and projects in the service of the national economy."
 Amongst the Italian businesses present at the meeting was Tnotice, a start-up created in 2011 which is active in the innovation and technological optimisation sectors for the benefit of the administrations of Italy, San Marino and Algeria.
 The CEO of Tnotice, Claudio Anastasio commented upon the meeting, saying "Our company was invited into the frame of an ambitious programme about to be put in place, financed by both governments with up to 1 billion dollars, in order to transfer the latest technologies linked to our areas of expertise."
 Anastasio stated his honour for the invitation and the willingness of Tnotice to help and take part in the future plans saying, "Our high-level technical teams, made up of engineers and technicians, allow us to perfectly understand and master the technologies and innovations most recently applied to the widest areas. A technical prowess which has allowed us to deliver very high quality projects, which conform to the norms and standards in place in Italy and Europe and has allowed us to plan to contribute to new horizons, near and far."
 jhh