Pope calls for universal day of fasting for Lebanon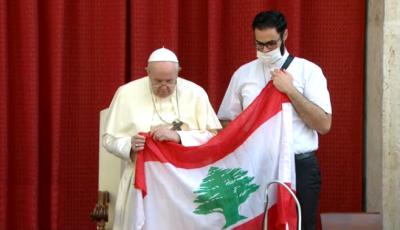 VATICAN CITY – Pope Francis finished his first public address since the pandemic by urging awareness and support for Lebanon in the wake of the large blasts in its capital, Beirut.
 For the first time since the Coronavirus pandemic, the pontiff was able to address the public directly, with a reduced and socially distanced audience in the San Damaso courtyard of the Apostolic Palace.  
 At the end of Francis' speech he was joined by a young Lebanese priest and they jointly held the flag of Lebanon while the pope invited people to engage in a universal day of prayer and fasting on Friday. The pontiff added that Vatican Secretary of State, Cardinal Pietro Parolin would also be visiting Lebanon that day saying, "A month after the tragedy my thought goes to dear Lebanon and this population so harshly tested."
 The 500 pilgrims allowed to attend had woken up early in fear of long queues to have a chance to attend the hearing. However, the wait was not long for those first 500 who entered the courtyard normally reserved for papal visits of heads of state such as Gorbachev, Queen Elizabeth, Bush, Obama and Putin.
 Despite the obligatory wearing of face masks, a rule Francis himself evidently prefers not to follow, many pilgrims did not wear them and the arrival of the pope at 9:30 a.m. caused a breakdown in the social distancing measures that had been put in place and obeyed calmly beforehand, reports il Messagero.
 In his speech the pope called for solidarity on a global scale to help address environmental struggles and reduce financial inequalities. The pontiff said "A solid, supportive diversity possesses "antibodies" that mean that the singularity of each individual – which is a gift, singular and unrepeatable -  does not grow sick with individualism and egotism. A solid, supportive diversity also possesses antibodies to heal social structures and processes that have degenerated into systems of injustice and oppression."
 The speech continued Francis' theme of "Healing the World" as he looked towards the future saying, "Solidarity today is the road to follow towards a post-pandemic world, towards the healing of our interpersonal and social ills."
 The off-script address to the world and the Lebanese people followed the call for solidarity as he said "Lebanon cannot be abandoned to its solitude…it represents something more than a state: it is a message of liberty, an example of pluralism as much for the East as for the West. We cannot allow this patrimony to be lost."
 jp-jhh