Banksy funded rescue boat rescues 89 migrants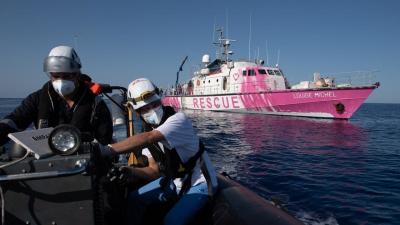 ROME – The motor patrol boat bought and funded by mysterious British artist Banksy has rescued 89 migrants in the Mediterranean, reports il Fatto quotidiano.
 The ship, named Louise Michel after a French anarchist and feminist, is now looking for a safe port to allow the migrants to land. The 89 people included 14 women and four children and were rescued from a boat in difficulty. According to the Guardian, Banksy's boat left the Spanish port of Burriana on Aug. 18 to begin rescue operations in the area of migrant sea crossings.
 The MV Louise Michel is painted pink and has a Banksy depiction of a young girl holding a life jacket on its side. At 31 metres in length, it is smaller than many other search and rescue ships but much faster than those of other NGO vessels, reports il Fatto quotidiano.
 Banksy had financed the acquiry of the boat in 2019, offering the sufficient money to Pia Klemp, the former captain of many ONG ships that had worked to rescue migrants. Banksy wrote to Klemp "I read your story in the newspapers. I've made some work about the migrant crisis and I can't keep this money. Maybe you could use it to buy a boat or something. Well done. Banksy." Klemp herself, initially believed the message to be a joke, but soon she had purchased the Louise Michel from un-used old French Coastguard vessels."
jhh