Controversial Rome Mayor Virginia Raggi to run again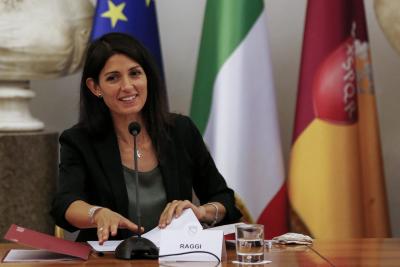 Virginia Raggi, the first woman elected as Rome Mayor
ROME – Ten months away from the voting process, Roman Mayor Virginia Raggi, member of Five Star Movement, officially announced her candidacy for re-election.
 Raggi, 42, was the first ever woman elected to the role in a landslide victory in 2016. She has had an unsteady tenure as mayor, struggling with issues around rubbish management and various political scandals.
 In a videoconference with members of her party, Raggi said "I will be a candidate again, I'm convinced that we can and we must move forward."
 Mayor Raggi was caught up in an investigation into alleged wrongdoing surrounding plans to build a new stadium in southern Rome for football team AS Roma. The promise of a new, better stadium for one of the city's two biggest teams is now likely to play a role in her campaign.
 Meanwhile the state of public health and infrastructure in Italy's capital have further tarnished her copybook. Over the past four years 145 of the city's buses have caught fire while many metro stations have been closed for months. There are questions regarding crime with 8,000 instances of pickpocketing per year and disgust at the state of health with the urban prevalence of rats and seagulls, as reported in Corriere della Sera.
 Raggi's re-election has caused particular strife for her party Five-Star Movement, who have a strict limit of two terms of office for their members. Were Raggi to be re-elected, she would be breaking that rule, although the party's recent struggles in elections suggest they cannot afford to have any fewer politicians in power. Therefore, there have been claims the rules may be changed to accommodate not only Raggi but many other leading Five-Star politicians who are also facing the prospect of not being re-elected to abide by the rule.
jhh