Sant'Egidio gives aid to the refugees of South Sudan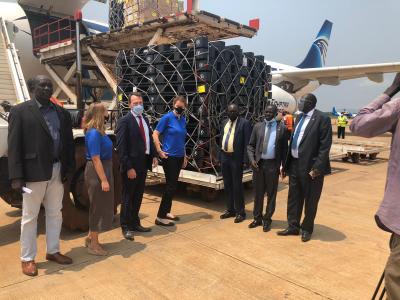 The cargo flown into South Sudan
JUBA – A shipment of humanitarian aid has arrived in the South Sudanese capital of Juba, provided by Roman Catholic movement the Community of Sant'Egidio.
 With the help of the Ministry of Foreign Affairs and through the EU initiative "Humanitarian air bridge", a flight brought food, masks, antibacterial gel and soap to help prevent the spread of Coronavirus.
 The aid is destined for those refugees who have had to abandon their homes and villages after the recent violence and conflict in various regions across the country. Sant'Egidio stated that "In this situation, it's the civilians, particularly women, the elderly and children, who pay the highest price for clashes between armed groups."
 The aid is a concrete gesture of support to the South-Sudanese people who have endured so much as a result of the recent war. The Coronavirus pandemic interrupted the initiative for political dialogue between Italy and South Sudan, which was to take place in Rome, however it remains the only likely way for a future for South Sudan, according to the Community of Sant'Egidio.
jhh