Former Pope Benedict 'extremely fragile' with facial infection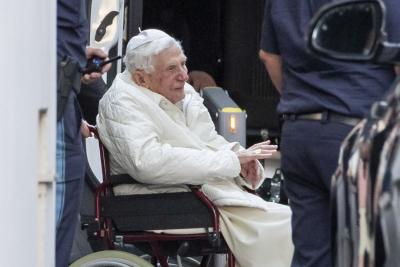 Former Pope Benedict on a visit to his late brother in June
VATICAN CITY – The former Pope Benedict, 93, is in a fragile state of health with a facial infection called erysipelas, reports Corriere della Sera.
 Benedict's biographer, Peter Seewald, is said to have visited the pope emeritus in the Vatican on Saturday to show him the recently published biography.
 According to German newspaper Passauer Neue Presse, Seewald described the pontiff as nonetheless "optimistic" and indicated the "possibility that he might put pen to paper again when he has recuperated."
 Benedict had last been photographed on June 18 when he visited his ailing brother Georg in Bavaria, who died July 1. Those photos had raised concern over the swelling on the former pope's face which has hassled him for years and seriously weakened his speech.