Italo cancels thousands of train tickets after Covid u-turn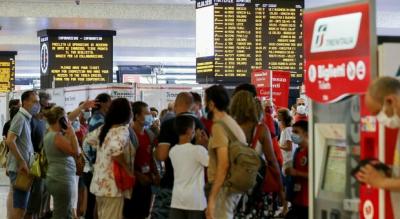 ROME –- Train companies in Italy have scrambled to address the reintroduction of social distancing on all trains announced on Saturday by the Ministry for Health.  
 According to the previous guidelines, set on 15 July, social distancing had not been necessary on both high-speed trains and other specific journeys. The change has meant a reduction of the capacity on Italy's high-speed trains from 100 to 50 per cent, causing chaos, as reported in Corriere della Sera.
Italy's two biggest train companies, Italo and TrenItalia, have rushed to deal with the sudden change. While TrenItalia has telephoned, one by one, all those affected to ask whether they would like a refund or an alternative route, Italo announced that it had been forced to cancel eight trains from its daily timetable and 8,000 tickets.
 Although the change has come as a result of a nation-wide executive, a northern regional block has opted to reject the advice and maintain full capacity. The centre-right governed regions of Lombardy, Liguria, Piedmont and Friuli-Venezia Giulia comprise those to have rejected the change in regulations.  
 The confusion and differing directions of Italy's railway services have brought two northern public railway companies to a complete halt. ATM (Milanese transport company) and Trenord have stopped all services, with the head of ATM, Arrigo Giana, stating "a clear and unequivocal line is necessary because in front of different orders those who manage transport don't know which rules they must abide by." 
 Elsewhere, two cruise ships on the coast of Rome have placed in isolation after three members of staff tested positive for Coronavirus, as reported in Il fatto quotidiano.     
 Although there were no passengers on board, the positive tests of the staff members have meant both ships have been docked in the port of Civitavecchia in the region of Lazio.
jhh
The port of Civitavecchia, 62km from Rome