Salvini to face trial for kidnap over migrant ship fiasco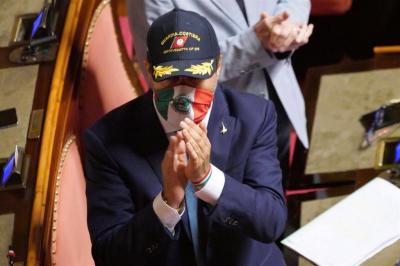 Salvini wearing an Italian Coastguard hat in Senate
 ROME -- The leader of the League, Matteo Salvini, has lashed out after the Senate voted for a trial into the dealings over the Open Arms migrant ship.   
 The charges are the kidnapping of persons and rejection of the duty of office for Salvini's refusal, in 2019 when he was Interior Minister, to allow a Spanish ship, with migrants on board, to land on Italian shores.
 Speaking on Thursday, Salvini doubled down, "Cowards, people smugglers and those who prefer the seat of power to dignity are celebrating against me. I am proud to have defended Italy: I would do it again and I will do it again. I move onwards, head held high and with a clear conscience."
 On Aug. 1 2019, a ship working for Spanish NGO Open Arms that had rescued dozens of migrants asked Italy permission to safely come to shore. Salvini, then Minister for Internal Affairs, rejected the request, in accordance with security decrees, and prohibited any passage through Italian waters.
 Open Arms, with 150 migrants on board, made a request to the administrative court of Lazio, contesting the prohibition form signed by Salvini and two others, decrying it as a violation of International rights norms, reports Corriere della Sera.
 Although their request was granted, Salvini did not back down and intended to sign another ban on entering Italian seas, although he lost the support of the other two politicians. After 19 days of political bickering, in which at one point the ship was 800 metres from the Italian coast at Lampedusa, the ship was allowed entry because of the "extreme conditions on board".
 The furore surrounding the affair and Salvini's unyielding actions caused the breakdown in the then coalition. Support for Salvini and his policies has plummeted during the Coronavirus crisis after he was perceived to be encouraging conspiracy theories to undermine the government.
 It was members of that coalition who voted against Salvini on Thursday, and the leader of the League hit back on Facebook writing, "They may be able to take a man to trial, but will they ever be able to arrest our ideas and our wish for Liberty? Thank you friends, I am not giving up."  
jhh