Italian army arrives in Sicily to control migrant problems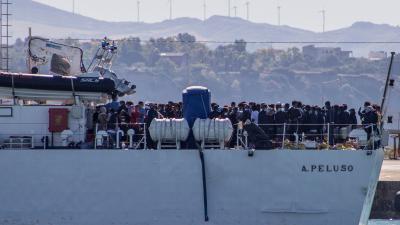 SICILY -- The Italian army has arrived in Sicily to help control a burgeoning security crisis after hundreds of migrants broke out of reception centres, sparking sanitary and safety fears.
 Problems began when 184 migrants broke quarantine rules and escaped from a refuge shelter in the central Sicilian town of Caltanissetta on Sunday. The next day, a similar occurrence in Porto Empedocle, on the southern coast of the island, prompted widespread focus on the region. There was particular concern for the health risks of the migrants' contravening of mandatory 14-day quarantine rules on arrival in Italy.
 There were over 500 migrants kept in the structure in Porto Empedocle, supposed to house just 100. Concerns were raised as the lack of control might threaten to increase the spread of the Coronavirus, which has badly affected management of the migrant crisis.
 The majority of the migrants entering Italy are coming from Tunisia, where Italian Minister of the Interior, Luciana Lamorgese flew on Tuesday to meet with Tunisian President Kais Saied. After their meeting Lamorgese stated that Tunisia, which is undergoing an economic crisis, will now receive more support from Italy with regards to control of the sea between the two countries. However, Lamorgese stressed the need for EU-wide co-operation to support Tunisia and tackle this problem saying in Corriere della Sera, "the Tunisian crisis risks having very serious consequences for everyone".  
 On a Facebook post on Monday, the Minister of Foreign Affairs, Luigi di Maio, said that "It is not a matter of ideological or political battles. The question is simpler than that and regards our safety, the safety of each one of us." The migrants who escaped have since been tracked down and a process has begun to transfer them to other refugee centres. Il Fatto Quotidiano reports that 300 migrants will be transported to centres in Lazio and 200 to Piedmont. Meanwhile in Lampedusa, Italy's southernmost island just east of Tunisia, another 128 people arrived on 7 boats over Monday night, including 45 Tunisians.
jhh