Pakistan glaringly absent from Italy's prohibited flight list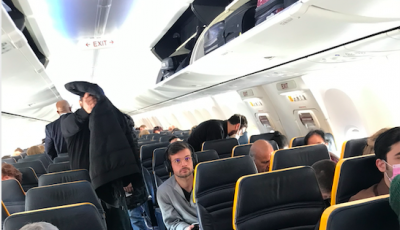 Flight takes off from Ciampino airport. PHOTO CREDIT: Italian Insider
ROME – Concerns have been raised over Italy's choice not to prohibit travel from Pakistan, as Italy maintains a mandatory quarantine for all those arriving via or from non-EU nations, in accordance with a 'safe travel' list on the updated Italian Foreign Ministry website. The countries included on the green list are Algeria, Australia, Canada, Georgia, Japan, Montenegro, Morocco, New Zealand, Rwanda, Serbia, South Korea, Thailand, Tunisia, Uruguay, and China (on the condition that China guarantees reciprocity). Nothing changes for the European countries inside Schengen, which, although seeming to have embraced free movement, have taken different approaches to journeying foreigners, and have different dates for their re-opening, as reported in Il Messaggero.
  Entry to Italy has been prohibited for those arriving from Armenia, Bahrain, Bangladesh, Brazil, Bosnia and Herzegovina, Chile, Kuwait, North Macedonia, Moldova, Oman, Panama, Peru, and the Dominican Republic, where by director or indirect flight. "We cannot nullify the sacrifices made by the Italians in these months," explained the Italian Health Minister, Roberto Speranza, referencing the danger of the pandemic in its global context, as quoted in Corriere Della Sera.
  The prohibition does not apply for Italian nationals, who can pass through these countries on the condition that on their return to Italy they quarantine for two weeks. A virologist from the University of Milan, Fabrizio Pregliasco, has said that this measure was very important, but lamented the deficiency in European co-ordination and lack of "homogeneous measures," as quoted in Il Giornale. 
  The Italian press have also noted with consternation the fact that the USA and Russia did not make it on the prohibited list either.
  In another surprising anomalous case, Serbia did not make the blacklist even though Bosnia did. This, in spite of the fact that over the last 24 hours, both nations recorded similar growths in positive cases, with 218 in Bosnia, and 266 in Serbia, according to nordest24.
  Furthermore, repeated allegations have been made that the Serbian government have lied about the number of cases, most notably by the Balkan Investigative Research Network (BIRN).
  In Serbia, there have also been violent clashes between police and protestors over the lockdown measures, and MEP Viola von Cramon has suggested that the President of Serbia, Aleksandar Vučić, lied about COVID-19 numbers for the purposes of re-election, as reported in European Western Balkans.
jmj