FAO Council litmus test for China DG tough tactics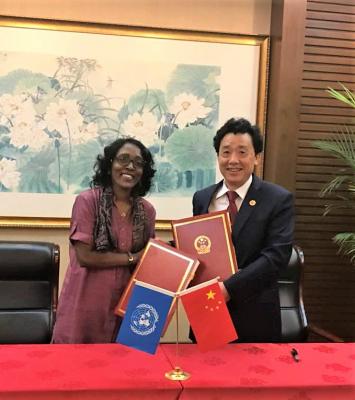 Happier days: Then FAO ADG Kundhavi Kadiresan signs South-South cooperation agreement with then China Vice Minister of Agric. & Rural Affairs, Qu Dongyu. Dr Qu axed Ms Kundhavi in December as Chinese-Indian tensions burgeoned anew. Photo credit: FAO
 ROME – As delegates prepare for the Food and Agriculture Organization Council meeting next week Western diplomats are divided over the management by the UN  agency's Chinese Director General Qu DongYu during lockdown. In Asia, meanwhile the mushrooming conflict between China and India evidently has spilled over into politics of FAO appointments for the continent.
 Some Western diplomats preparing for the July 6-10 Council consider it odd that the DG has de facto changed the organic administrative structure of the agency without approval from Council delegates, in what is seen by some as disprespect for member countries. Under the constitution of the FAO organic reform must be approved by member states. Other countries with national agendas they want the DG to implement are willing to turn a blind eye, diplomatic sources say.
 U.S. Ambassador Kip Tom is more concerned with the U.S. presidential election and fear of China ending the tradition whereby the head of the World Food Programme is an American, on the ground that the United States is the largest donor both to FAO and WFP. The WFP Executive Director is appointed by the FAO director general and the UN Secretary General.
 At FAO headquarters formerly powerful assistant director generals who have been stripped of their functions, including Italian former EU investment czar Roberto Ridolfi, who is being scrutinised by EU anti-corruption investigators as Insider reported exclusively this week, do not appear in the organic structure presented to members for the Council. "They are now the highest-paid redundancies in the United Nations," one veteran FAO watcher commented.
 Member countries are pressing for clarity in the chain of command between senior management, divisions and offices that is seen as undefined. At a meeting of senior staff June 24 Dr Qu presented the new reporting lines and organic reform as a major historic landmark and definitive reform of the FAO once and for all, supposedly ending the organic instability, constant shifts and reshuffling of administrative units that characterized the reigns of his predecessors.
 The DG with support from crocodile burger salesman Godfrey Magwenzi, the Zimbabwean chef de cabinet, and French DDG Laurent Thomas have launched a charm campaign with staff and staff reps. Hardly a day passes without a communication to staff, mostly working at home, saying that their wellbeing is critical and proposing sites of music, dance, sport and other social activities.
 Diplomats from rich and poor countries alike consider this inappropriate in an organization mandated to fight hunger and poverty. It is not known if the inane charm offensive was decided by Dr Qu or by Thomas, who now oversees staff matters.
 Diplomats feel that the lockdown resulted in a dramatic slowdown of FAO activities and that this should be addressed as a priority.
 Meanwhile the DG announced the appointment of JongJim Kim, from South Korea, as ADG and Regional Representative for Asia and Pacific, based in the FAO's sleepy Bangkok regional HQ. Mr Kim was appointed by the previous DG, José Graziano da Silva, as head of the Office for Relations with donors. He never settled into that job and was sent to Tahiland as deputy to then ADG Ms Kundhavi Kadiresan  from India, a former World Bank economist.
 ADG Kundhavi was fired at the end of last year as part of bloodletting in senior positions implemented by Dr Qu. Her demise was seen as reflecting political tensions between China and India and because of her support for the ill-fated Indian candidate to be FAO DG.
 Ms Kundhavi cautioned in December a short time before she was axed by the Chinese supremo that the world is a long way from achieving the UN's sustainable development goals for 2030 call for ending hunger and ensuring all people have adequate access to food all around the year.
 "We are not on track," said Ms Kundhavi. "Progress in reducing undernourishment has slowed a lot in the past few years."
 More than a fifth of all people in the Asia-Pacific region are facing moderate to severe food insecurity, meaning they must scrimp on food or go hungry part of the year, and in the worst cases go days without eating.
 More than half of the 479 million in the region who are undernourished live in South Asia, where more than a third of all children suffer from chronic malnutrition, said a report written by the FAO, UNICEF, the WFP and the World Health Organization. In India, nearly 21 percent of children suffer from wasting, a more acute form of malnutrition.
  In another development at FAO's troubled Rome headquarters, competition also has erupted within the European Region for the position of independent president the FAO Council due to be elcted in 2021 by the FAO Conference. It is Europe's turn to be elected for this sensitive position for the FAO governance.
 There is mounting speculation that Dutch Ambassador Johannes Hoogeveen and Hungarian envoy Zoltan Kalman are eyeing the position, with Budapest's right-wing government arguing that Eastern Europe never has had a Chairman of the Council.
 Western diplomats fear that the appointment may be used by Dr Qu as a bargaining counter in horsetrading for support for his re-election to a second term as DG, which Beijing values highly given the Chinese Communist Party's emphasis on increasing its influence within the UN and its specialized agencies, diplomatic sources say. 
 jp   
US Ambassador to the FAO Kip Tom with Dr Qu. Photo: FAO