Bust of drugs from Syria linked to mafia breaks records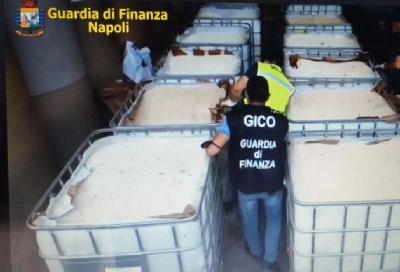 SALERNO – Approximately 84 million tablets valuing over one billion euros have been seized by the Guardia di Finanza of Naples, according a press release. The drugs, commercially referred to as 'Captagon', an amphetamine-based stimulant, were found in three containers that arrived at the Campania airport from Syria, and are thought to have been shipped by Syrian businessmen with links to the Bashar Al-Assad Assad regime. The illegal activity is thought to have been facilitated by Italian criminal groups in collaboration, as uncovered by an investigation carried out after a decree was issued by the public prosecutor of the Republic of Naples, the District Anti-Mafia Directorate, reports La Stampa.
  A likely 'consortium' of criminal gangs were involved, but the volume of drugs discovered suggests that those responsible were linked to the Camorra clan, with the mafia capable of international  transactions, reports Il Fatto Quotidiano. 
  Said to amount to the largest amphetamines seizure worldwide, the 14 tonnes of drugs had been placed in cylinders for industrial use, built in such a way as to prevent identification from scanners. Each cylinder was about two meters high and 140 cm in diameter, and contained within them around 350 kg of tablets, reports Corriere Della Sera.
  Captagon was initially produced in Lebanon and was widespread in Saudi Arabia in the 1990s. Islamic State made use of the drug because of its ability to reduce fear on the battlefield, so much so that it came to be known as the 'ISIS drug', and multiple news outlets reporting that the drugs had come from ISIS before links to a bussinessman in Aleppo emerged.
  Two weeks ago, again in Salerno, a container was intercepted containing 2800 kg of hashish and 190 kg of captagon, reports La Stampa.
jmj