Ryanair feuds with Commission as O'Leary slams Alitalia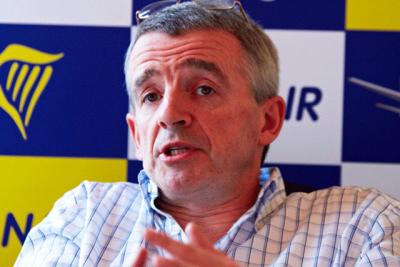 Ryanair's CEO Michael O'Leary. PHOTO CREDIT: campaign
ROME – Ryanair have complained to the EU Commission about their nine billion euro rescue plan for the Lufthansa airline from the German government, on the grounds that it is anti-competitive, with the German airline in talks with other airlines including Alitalia, reports Il Fatto Quotidiano. The agreement includes wage freezes, reduced flight hours, early retirements, and unpaid leave for flight attendants in order to avoid insolvency, but also talks of setting minimum price levels with other airlines such as Alitalia. Ryanair's chief executive officer, Juliusz Komorek, has stated that Lufthansa, with its subsidiaries, "may have started negotiations to set levels minimum prices" on services in Italy.
  Alitalia, which in May received an injection of three billion euros from the Italian government who took state control, has been subject to repeated criticism from Ryanair's CEO Michael O'Leary. There have been six failed rescue plans for Alitalia over the past 12 years.
  "Alitalia has been renationalized," O'Leary stated. "An airline that in 74 years has never generated profits. Ryanair is the largest airline in Italy, EasyJet is the number three, I think. We don't want state aid, but we would like to see a significant reduction in municipal taxes and airport fees in Italy," as quoted in La Stampa.
  On June 25, the shareholders of Lufthansa voted in favour of the most recent rescue plan in Europe, and the following day, Ryanair publicly condemned the German Government's decision and criticised the German and French Governments for providing enormous subsidies at the expense of other airline providers.
  The European Commission had already agreed a three billion euro loan as part of a larger bailout package from March, but the recent go-ahead provides for an additional six billion euros for to recapitalise Deutsche Lufthansa (Dlh), the parent company of the Lufthansa Group, reports AGI.
  O'Leary called Lufthansa "addicted" to state aid, and said that "it is deeply ironic that the German Government, which lectures all other EU countries about respecting EU rules, has no difficulty breaking the State Aid rules when it comes to Lufthansa," as quoted from a press release.
jmj