Mountain lockdown for Italian ski team after positive test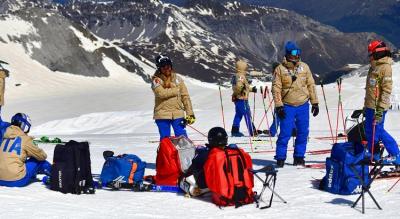 PASSO STELVIO – The Italian National skiing programme was suspended and the 180 members of the team were stuck in the Livrio hotel waiting the results of their tests, after a swab test found three positives in the group, two of which were asymptomatic, and one of which recorded feverish symptoms and had to be immediately transported to the hospital in Sondalo, where he collapsed, according to a statement from the Italian Winter Sports Federation (Federsci). Amongst the group in lockdown are Sofia Goggia, Italian alpine ski racer Olympic gold medalist; Federica Brignone, the first Italian female skier to win the 2020 World Cup title; and Marta Bassino, the promising Italian skier who made her World Cup debut at the age of 18. 
  On Sunday, training was suspended to carry out swab tests, with training planned to resume Monday. The person rushed to hospital was a technician, who had been given a swab test after displaying mild flu symptoms which were then later confirmed as a case of Covid-19, reports Il Fatto Quotidiano.
  In a separate statement, Federsci stated that some information had been filtered in a "distorted way through some websites," and emphasised that they had strictly applied health protocols drawn up by management.
  "The technician is now well and the tests showed no further symptoms of any kind."
jmj