One million more Syrians food insecure in last six months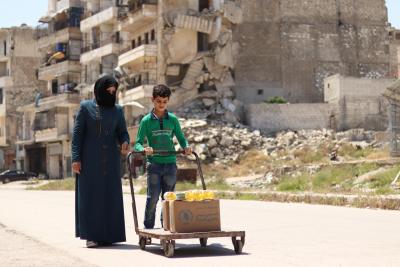 PHOTO CREDIT: WFP/Khudr Alissar
ROME – Syrians face an unprecedented hunger crisis as the prices of basic foods exceed prices at any point over the nine years of conflict, with over nine million Syrians now food insecure, the United Nations World Food Programme (WFP) have revealed in a press release. The WFP urgently require 200 million dollars to continue to provide food assistance in Syria until the end of the year, and have stated that unless new funding is made available by August, they will be forced to drastically cut rations and outreach as of October 2020. 
  The recent combination of an economic standstill, and the freefall of the important neighbouring Lebanese economy, and COVID-19 lockdown measures has pushed food prices up to more than 200 per cent higher in less than a year, meaning that food prices are now 20 times higher than pre-crisis levels.
  Families have been forced to adopt desperate measures from cutting meals and reducing portions, to selling assets and going deeper into debt. 
  "Families in Syria have already been through more than they can handle, they have exhausted their savings and often fled their homes and now face a downward spiral into poverty and hunger," said Corinne Fleischer, WFP Country Director in Syria.
  "Food from WFP is a life-line for families who have lost everything; their homes, their jobs, and the ability to feed their families," continued Fleischer. 
  "We are grateful to our donors in Syria, but the needs have never been greater, and we cannot let the Syrian people down now."
jmj