Serie A challengers stumble after decisive day of play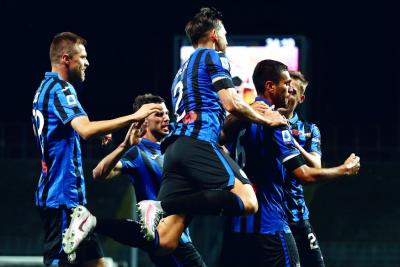 Atalanta celebrate. PHOTO CREDIT: Newsreaderboard
BERGAMO – In pole position, Juventus watched on as challengers Inter Milan drew and dark horse Lazio lost on Wednesday, with Lazio falling short against Atalanta in a breath-taking 3-2 defeat in their first game after the lengthy pause in the Serie A due to the coronavirus lockdown.
  In the first half Lazio played precision football, with talismanic striker Simone Inzaghi in terrific form. However, after taking an early 2-0 lead through an own goal from Atalanta a Lazio wonder goal from outside the box, they squandered several chances to go 3-0 up, and left Atalanta with a chance of a deadly second wave comeback.
  A header from Robin Gosesns, a scorcher from Ruslan Malinovskiy, and another header from José Luis Palomino, bore the fruits of a colossal Atalanta comeback.
  Only four points off Juventus and with 11 remaining games to play, Lazio still have time to recover from the setback.
  By comparison, Inter Milan threw away their lead with a stodgy display, falling short in a shock 3-3 draw with Sassuolo, who scored late on in the final minute of the match with a scrappy goal from substitute Giangiacomo Magnani.
  In a back and forth match, Sassuolo had taken an early lead through Francesco Caputo. Inter then took the lead through a Lukaku penalty and a goal from Christiano Biragi after a neat period of play just before half time. An Inter goal and a Sassuolo penalty levelled the scores again late in the final minutes.
  Inter are now eight points from the top of the table. Inter Milan Manager, Antonio Conte, spoke to reporters after the match, and said: "I think we deserved much more considering how much we created."
  The match reflects Inter Milan's error strewn season, wasteful in front of goal and prone to lapses in concentration in defence, traits which have led to their elimination from the Champions League and the Italian Cup, and now possibly their Serie A chances too.
jmj