IFAD staff incandescent over job 'reassignments'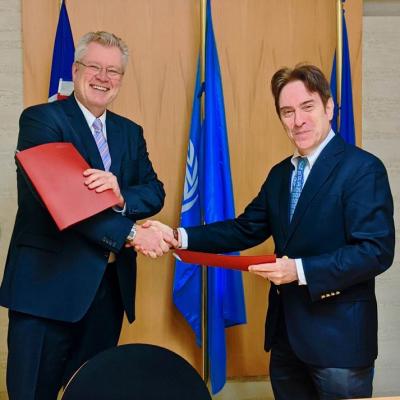 Mover and shaker: IFAD HR director Pierre Moreau Peron (right) with an Icelandic official
 ROME -- Staff at the International Fund for Agricultural Development IFAD are concerned about a "2020 reassignment exercise" ordered by human resources director, Pierre Moreau Peron, which envisages the reassignment of the roles of hundreds of people at the UN agency many of whom are being forced to apply for their own jobs.
 The draconian document allegedly makes it clear that any employee failing to get a new job or not accepting the new role within 15 days they will be considered as guilty of "abandonment of post."
Staffers are calling this a brutal attempt to get rid of some employees, particularly the ones believed to be underperforming. The rules for this process are set out in this document of over 20 pages, but the President Gilbert Houngbo, personlly, is able to overule any of the decisions without appeal.
 Staff consider the plan to be unfair and discriminatory, and those unaffected are concerned that they will be next.
 They say the policies in the document are clearly against European and U.S. employment law.
 Against this background, an IFAD spokesperson told the Italian Insider that "All of our human resources policies and practices are designed to foster professional development and ensure the organization's ability to successfully undertake its mission to help the most vulnerable people living in rural areas around the world."
  jp