Venezuela denies backdoor financing of Five Star founder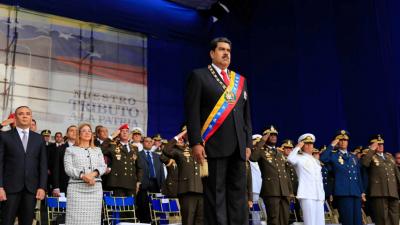 PHOTO CREDIT: Teller Report
ROME – The Venezuelan President, Nicolás Maduro, has become embroiled in a brewing Italian corruption scandal, with allegations that he sent 3.5 million euros to finance the Italian political party Five Star (M5S) in 2010 when he was foreign affairs minister, according to Spanish newspaper ABC. While the ex-Italian Minister of the Interior, Matteo Salvini, has demanded an explanation, the allegations have been rejected outright by M5S and the Venezuelan government.
  According to the report, a classified Venezuelan secret service document dated July 5 2010, reveals that Maduro gave his authorization in 2010 to send a suitcase full of cash through an intermediary in the Venezuelan Consulate in Milan, and so doing finance the M5S illegally through Gianroberto Casaleggio, the founder of the M5S movement, who later died in 2016.
  Casaleggio's son, Davide Casaleggio, has announced that lawsuits will be brought, and the leader of M5S, Vito Crimi, has in a note spoken of the ridiculousness of fake news, reports La Repubblica.
  According to Il Messaggero, the money would have been drawn from funds administered by the ex Interior Minister, Tareck el Aissami, who has been sanctioned by the US Treasury Department for money laundering and drug trafficking, with standing allegations of trafficking drugs between Venezuela, Mexico, and the US.
  Representatives from the Venezuelan embassy in Rome have claimed that the document is a forgery, that Venezuela will also be taking legal measures, and that that the M5S movement was "totally unknown in Venezuela" in 2010, according to diplomatic sources.
  Despite the backlash, ABC have backed investigative journalist Marcos Garcia Rey, a veteran reporter who participated in the Pulitzer Prize awarded 'Panama Papers' investigation, and who says he has sources which collaborate his reportage. "I have other evidence that what is written in that document is truth," he said, as quoted from La Stampa.
  The 5 Star Movement was born in 2009, when it stood in administrative elections for the first time, and as stated in the classified document, the extraordinary goal would have been to finance a "revolutionary and anti-capitalist leftist movement in the Italian republic," as quoted from Il Giornale.
jmj