Anarchist cell discovered linked to police station bombing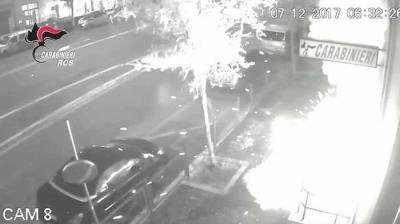 ROME – Seven people have been arrested on charges of terrorism, having been alleged responsible for the bomb attack on the San Giovanni Carabinieri Station in Dec 2017, according to police sources. Although there were 10 people inside the station at the time, nobody was injured by the early morning explosion, claimed at the time by a cell from the 'Informal Anarchist Federation' (FAI) and the 'International Revolutionary Front' (FRI), reports Il Globo.
  Those arrested are Claudio Zaccone, 33, Roberto Cropo, 34, Flavia Di Giannatonio, 39, Nico Aurigemma, 30, and Francesca Cerrone, 31. The seven were found through an operation named 'Bialystock', reports La Stampa.
  According to investigators, the group aimed to "reorganize the anarchist movement by overcoming 'localism', to start a new phase of insurrectionism, which brought the different groups closer together, so as to hit the democratic and constitutionally organized organization of the state," as quoted from La Repubblica. 
  The anarchist cell was based in a social centre the 'Occupied Bencivenga' in the Italian capital, and allegedly organised the placement of a kilo and a half of timed explosives that were hidden in a metal thermos flask, reports Il Fatto Quotidiano.
  "This is a consequence of the total impunity enjoyed by social centres in Italy, spaces where the state does not enter and where the law is suspended," posted the president of Brothers of Italy, Giorgia Meloni, on Facebook. "Does Mayor Raggi have nothing to say about it?"
  Investigors also revealed that the group of anarchists had links with German anarchist groups in Berlin as well as individuals in Chile, reports Il Messaggero.
jmj